Alright, So I absolutley love cooking, but never really know what to cook! I was inspired one night by my Gold Label
Tropical Traditions
Coconut Oil--and turned to one of my mom's favorite dishes to make. The smell of using Coconut oil on my hands just reminded me of Coconut milk so I pulled out this favorite dish from my childhood: Ginataan--Chicken stewed in Vinegar and Coconut Milk
Ingredients:
1-2 tbs Coconut Oil
12 oz can Coconut Milk
3-lbs Pastured Chicken,
2/3 cup Organic coconut water vinegar (or regular vinegar)
1 Onion, minced
6 Garlic Cloves, minced
1 TBS Pepper 1 TBS
2 tsp Salt or salt to taste
Cooked Rice
Optional: Cabbage or Spinach
Instructions:
Saute Onion and Garlic in Coconut Oil in pan.
Add Chicken-Sear chicken a bit then add Coconut Milk and Vinegar and Pepper. I love pepper so I added quite a bit!
Simmer on medium for about 30 minutes, or until chicken is thoroughly cooked.
The sauce will have thickened which is what you want! A nice lovely thick sauce.
Season with Salt.
Serve over Rice or even noodles if rice is not your thing!
Optional: Add Cabbage or Spinach at the end 5 minutes prior before serving.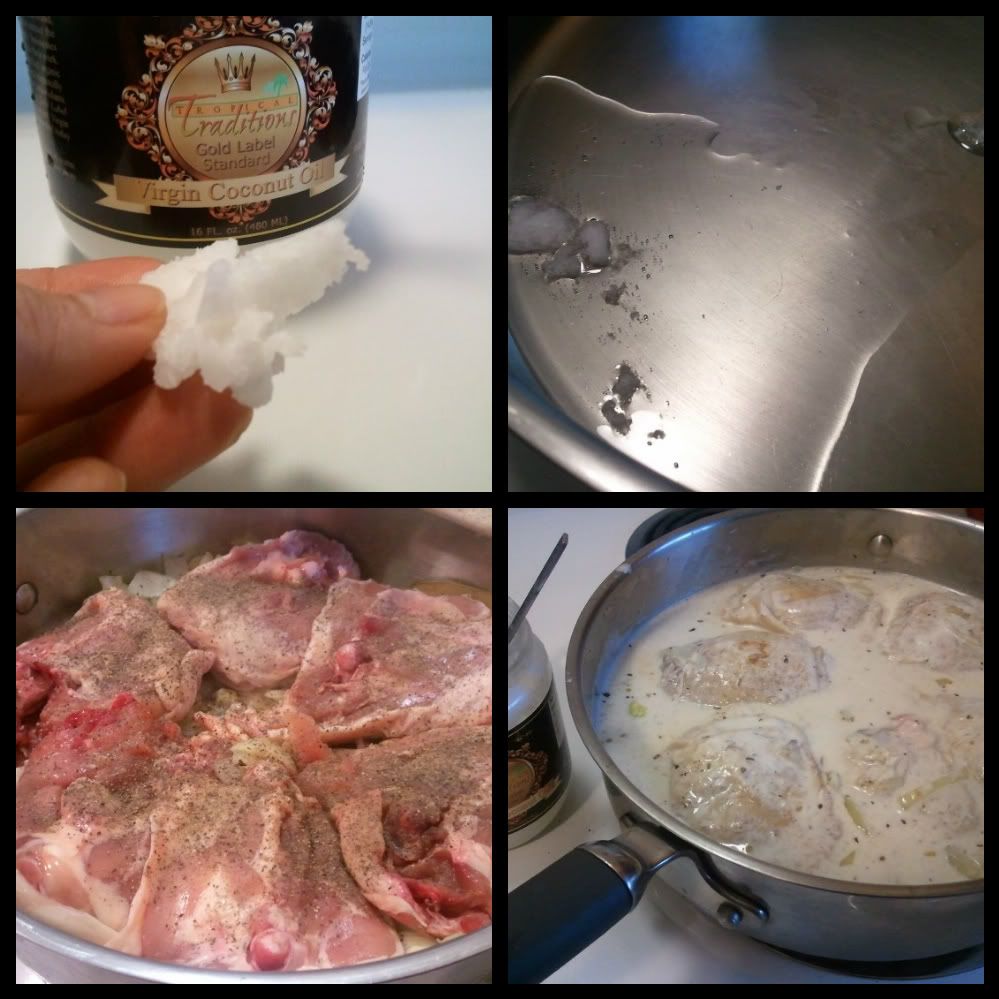 Lately, I have been loving using Coconut Oil instead of olive or canola oil. The taste is lighter in my opinion and almost has a nice taste of freshness! For scrambled eggs in the morning I feel my daughter dislikes the taste of olive oil--so I have fully switched to using Coconut Oil to fry her eggs.
I also have a great recipe I would love to try out tomorrow for some sweet treats. Instead of the use of butter, I will see if I can substitute Coconut Oil. This coconut oil in comparison to other oils seems very fresh smelling and of a higher quality.
Here's a great video on it! Watching the process reminds me of my own family. Though we never made Coconut Oil from the coconuts we had--I remember collecting the meat out of the coconuts and drinking the "coconut juice" from harvested young green coconuts!
Buy it:

Gold Label Virgin Coconut Oil is available for purchase at: www.tropicaltraditions.com If you order by clicking on any of my links and have never ordered from Tropical Traditions in the past, you will receive a free book on Virgin Coconut Oil, and I will receive a discount coupon for referring you. If you do order using my referral links, thank you, for it blesses our family.

Buy Coconut Oil: A guide to buying coconut oil online

http://buycoconutoil.com/

Win it:

Thanks for Tropical Traditions, I am able to give my readers the opportunity to win a Quart of their Virgin Coconut Oil!

Giveaway is open to US and CAN residents.

a Rafflecopter giveaway Disclaimer: Tropical Traditions provided me with a free sample of this product to review, and I was under no obligation to review it if I so chose. Nor was I under any obligation to write a positive review or sponsor a product giveaway in return for the free product.