We recently have made one of those big decisions in life:
We bought a house!
It has taken us about two years since starting, but here we are. We could not have been more happier with this new home.
We love that it is in the woods and more rural than our other alternatives. My husband fell in love with the garage, and I fell in love with the kitchen and the rather spacious bedrooms!
It does not take much for me to get inspired with doing a makeover. With empty rooms and nothing on the walls--it is a fresh canvas.
One area that I hope to be able to save up money and recreate is our bathrooms. They are basic and serve its purpose. I am thankful we have bathrooms, but with everything it can use a bit of beautifying and upgrades. We have two of them. One thing that I am not used to by any means is having two bathrooms.
I am still wrapping my mind behind the whole idea. We were in a small apartment with one bedroom and one bathroom. It is dawning on me how much of a blessing it is to have not one but TWO bathrooms!
Bathroom
Master Bathroom
For one thing, having a bathroom a few steps away from the master bedroom is simply divine. Secondly having a second bathroom solely for visitors and my daughter has its benefits. I am growing quite fond of decorating and updating my bathroom, but as in everything in life we must do it in baby steps.
Updating and decorating a home is a process. Step one in the process of updating and decorating is dreaming and becoming inspired with ideas!
First off is Bathroom Faucets:
I would gladly uproot all of our faucets and replace them with something that is water efficient with a touch of elegance. Saving water is something that I am all for. As new homeowners, I can feel the effects of wasted water hit our wallets. For both our guest and master bathroom I have fallen in love with this
bathroom faucet
which deems itself in my eyes elegant and modern! We found this Antioch Faucet on Danze.com. They have some really beautiful faucets to choose from. The color Tumbled Bronze is just beautiful and to me, and is full of rustic charm. Given our bathroom counters are a lighter color we would most likely go with the equally stunning brushed nickel. If we did ever upgrade to darker countertops or a deep colored vanity--Tumbled Bronze by Danze would be perfect.
Antioch™
Two Handle Mini Widespread Lavatory Faucet
Secondly Upgrade our Countertops and Vanity:

In an apartment I shared with three other girls we had two sinks. It was great. Simply adding a sink in my dream bathroom makeover could not hurt, could it? I feel like my husband needs something more neutral and guy friendly, and this would be perfect! The slate marbling is still chic, and modern. Having a His and Hers sink with the bathroom faucets we have pictured above would make the bathroom more of "ours" rather than just mine. I feel like he needs to have his own sink. The cabinetry holding up the countertop is something I would love to have whenever we get around to updating and remodeling. The drawers here have a nice clean look to them as they are painted a clean crisp white. The framed mirrors I would replace with maybe one big one. The look is just inviting and fun to me! I like how it also caters for more of a neutral look for my husband.


Thirdly something organically artful.
What I hope for is something to fill in this extra space spot next to our bath tub on the right.
I feel like something of earthy organic artful entertaining is to be placed here. A plant that offers a splash of color, and a neat dresser or cupboard that stows extra towels? It may be a bit contemporary, but I love the vibrant colors. I may go for other neutral earthy tones, but I love the inspiration that stems from this picture!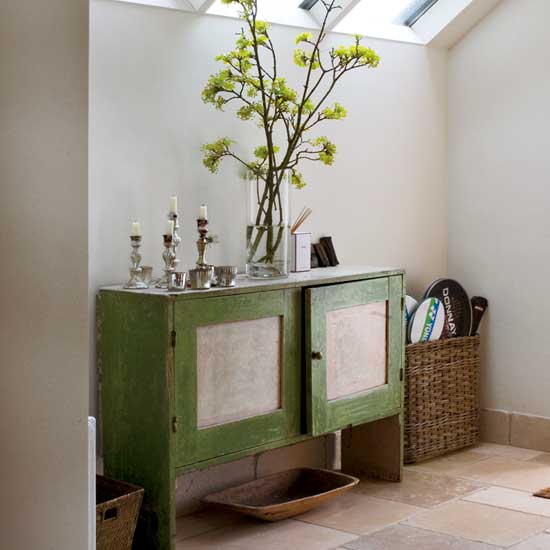 Photo Credit Polly Eltes
As we make this house a home, I cannot but be excited at the possibilities of what we can make this become. I hope that you can be inspired to recreate a lovely bathroom.
Disclosure: This is a sponsored post.