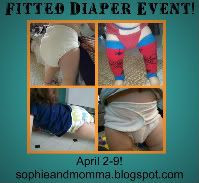 I am super excited to start out talking about Fitted Diapers! A couple of months ago I discussed all about Wool Diapering. Now I would love to spend time with talking about Fitteds. I have some amazing sponsors who are lined up for this event! So throughout this week, I will just have some fun fluffy giveaways and Fitted Diaper Reviews!
In reality all I can do is offer up my insights and list out the pros and cons of a diaper, so this fitted diaper event will hash out the pros and cons of different diapers we are using!
The Pros about Fitteds:
Work Just Like a Regular Disposable Diaper
Offers a Snug-Fitted Fit
Better priced than most other types of diapers
Is easier to use than a Prefold
Can be easy to make at home with most any type of absorbent fabric

The outer fabrics can be extremely adorable
In our household these make great nighttime diapers paired with wool or pul covers
Can be dried in the dryer
When I first started cloth diapering, the first types of diapers we had available were prefolds and two Crickett's fitted diapers. As much as prefolds were "fun" to get into, I have to say it was a bit more work than I wanted when it came to my little one. So the two lonely fitted diapers we had in our stash quickly became the favorites of our starter stash.


First off, they worked just like a regular disposable diaper so it was an easy transition to make, and secondly they were able to fit around my daughter without me having to figure out how to fold and twist it into submission--offered a snug fit! Unlike prefolds, all I had to do was lay my daughter down atop the diaper and snap it to the size and fit she needed. So simple! My husband quickly favored these diapers because of the ease to it as well. The contoured shape and the fit the diapers made it easy to ensure it hugged her legs and belly in all the right places…hence the name fitted diapers?

My third most important reason for loving fitteds was that they were super absorbent. I like my osocozy prefolds, but I was always satisfied and never let down with the cotton hemp absorbency of my fitteds! I know that fitted diapers can be made with any type of materials, but the one type I am very happy with are the fitteds that are made with Hemp fabrics. Hemp fabrics not only reign supreme in my book when it comes to matters of absorbency, but they also seem to stand the test of time and can provide me a diaper that can last us a greater more longer length of time. Which is why at least one type of hemp fitted diaper is usually with us for car rides, grocery trips, and for visiting friends and family. And most of our night time diapers are composed of fitteds. I will discuss the different types of fabrics fitteds are made up this week!

It is no secret that Fitted diapers can be made from the cutest prints! I as a mom am such an addict to prints! I enjoy using fitted diapers around the house because I can allow my daughter to run about the house in them without having to put a cover on. It is better for me as all I need to do is pat her rump to see if she is ready for a change. Plus with a pair of leggings I get to see her cute diaper!
The Cons about Fitteds
Drying periods may be a bit longer depending on type of fabric
Needs a cover to be waterproof
I really do not have many cons when it comes to fitted diapers. Some of my concerns when it comes to fitteds is the laundering. Because fitted diapers is composed of absorbent fabric sewn together--one must make sure to launder their diapers well! Or else they will stink! Having a good wash method and making sure the diapers are thoroughly dried is key to keeping your fitteds not only working great but smelling good too.

Lollidoo diapers seem to take the least amount of time to dry. My bamboo fleece diapers and other fabrics seem to dry all at about the same--but my hemp blend diapers take the longest to dry. Which in my opinion is really not too bad. What I do to speed things up is toss in a few dryer balls in with them, and they come out soft and really fluffy ready for use. As a real benefit to me, is that fitteds do not have PUL and so tossing them in the dryer is not a hassle. They simply dry along in the dryer with all my wipes and prefolds! If I hang dry my diapers, a day of hanging outside in the sun usually does the trick, even for my hemp diapers.