One aspect of being a mother is the fact that I am also her teacher! Growing up in a bilingual home was fun, but my knowledge and actual speaking of the my own language waned as I went into preschool and all the other children and teachers spoke one language, English. My Filipino tongue was lost to me as my family rarely spoke it at home to me!
Looking back, I kind of regret that I never grew fluent in my own native language, but now as I have my own family, I am endeavoring to teach and incorporate speaking different languages. I know the value of learning a different language. It is having the ability to relate with another person on a whole different level—because you are able to speak their language. Now, I am still working on my own Filipino roots, but thought that the Spanish and Filipino languages are quite similar and so I picked out
Lightning Fast Spanish
by Carolyn Woods.
Lightning Fast Spanish:
My favorite part about
Lightning-Fast Spanish for Kids and Families: Learn Spanish, Speak Spanish, Teach Kids Spanish - Quick As A Flash, Even If You Don't Speak A Word Now!
is that it is grouped and organized together nicely. There are sections or rather as she has named them "Conversations" dedicated to colors, animals, a walk outside, where are we going, and such as that fit into ordinary everyday life! I love it because it is easy to focus on a particular subject and spend a day just constantly working on that "Conversation"! I find myself printing out parts of her book and sticking it in my pocket as I do not know Spanish very well and cannot remember what I have read!
I am starting to make color flash cards for my daughter and I—it will be a fun activity for us today, and already I have gotten her to say "Rojo" for Red! I am very encouraged at how in just two minutes she was able to pick up the word! It was so precious. She said "ro ro" and then "ro ho"! I am super excited and am very encouraged that a toddler can pick up words quick!
For Breakfast time (Conversation #2):
I simply applied Lightning Fast Spanish into our Breakfast time, by reading over the Concepts and Vocabulary introduced in this section and setting before our daughter food items we were going to learn the names of. I made flash "cheat" cards to place on the table in front of me. As a part of the Spanish Conversation we were going to have I picked out the phrase "?Que hay desayunar?" and "?Quieres?". Meaning What are we having for breakfast and Would you like?
My handy "Cheat" Cards I made!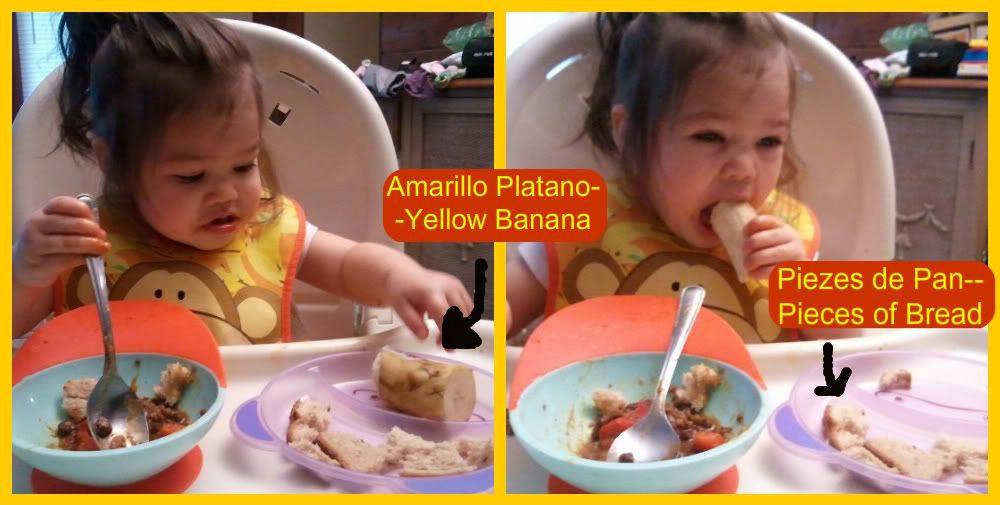 It was quite fun and not overwhelming as a mom, and in a matter of time my daughter will know that there are two ways in which to express her want of a yellow banana---Amarillo Platano!
A fun game activiity that I play—as suggested in the book is something that I call
Donde Esta
….
meaning Where is the…? So I simply play Name the body parts! I find myself playing this game throughout the day with her. She can say "La Cabeza" meaning the head a little bit as it is a mouthful to say.
As my daughter gets older I would really love to be able to incorporate the Scavenger Hunt Game which is playing Donde Esta on a bigger scale and with things and items. Another game I cannot wait to play is Spanish Bingo! I personally am enjoying learning a new language and am taking advantage of my daughter's young "learning to talk" age. As for my husband, he is not home quite as often to learn Spanish with us as he is working longer hours, but he sure approves of her speaking another language and is astounded at how little kids' brains are geared! I do like this book and would recommend it if you want a fun way to incorporate a new language. The best ways to learn a new language is to use it, and this book really does help one learn and use it!
Carolyn Woods author of Lightning Fast Spanish:
I'm a busy mom of 4, and always looking for ways to do things better, faster, cheaper! I post reviews and blog about science fun, educational books, and family friendly activities ~Carol
Carol makes it extremely easy to incorporate a new language into every day life. She offers families a fun and non-overwhelming way to learn a new language. She has several other
Lightning Fast Languages
in this series such as Chinese, Japanese, French, German, and Italian. You can find her books on
Amazon
and are available on Kindle as well as a Paper back edition.
Disclosure: I was provided a copy of Lightning Fast Spanish to facilitate this review. All of my opinions are my own and from my experience. I was not compensated in any other way to write this review and was not required to write a positive review. This post may contain affiliate links.