Item Reviewing: Nifty Nappy Fitted Diaper in Elephants print from Red Barn Cloth Diapers. (Part 1: Components of the Diaper)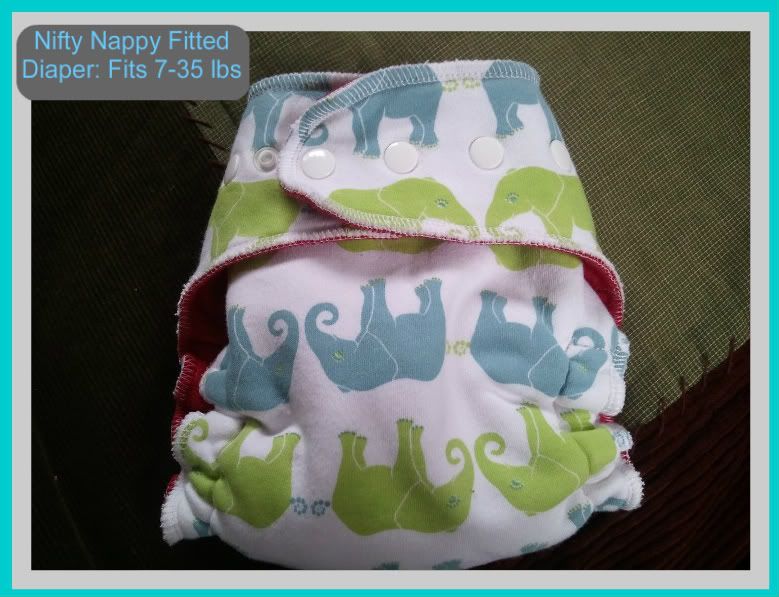 Fitted diapers are so adorable! Let me know if you have heard that quite too often!
A comment an older friend who cloth diapered her kids a long time ago said, "What good is the print if we can't see it!" I simply smiled and told her that I let my daughter run a bit without a cover. For me, it is so important that I as the main cloth diaper changer get some enjoyment too! One of my "cloth therapies" is having a few diapers that really are a cheerful site!
Jeni, owner of Red Barn Cloth Diapers sews up Nifty Nappy Diapers under a Cottage License. Although this is my first Nifty Nappy, I feel that the craftsmanship is exceptional. The price of Nifty Nappy is something one has to save up for if building a huge stash of them, but these are agreeably well worth it. I showed it to one of my friends who has been (and is still currently) sewing for over 35 years and you know what she said?
"Now that is how the serger's thread is supposed to look like. That is good quality and perfect--see how the threads 'meet on the edge?'"
She looked the diaper over, and nodded her approval.
Components of the Red Barn Nifty Nappy:
Elasticity: The back of the diaper is fixed with an elastic. I love elastic as it helps to keep leakages at a minimum. The elastic on the back of this diaper is encased into the diaper. Child wearing the diaper does not get any redness because the elastic is encased. That goes with the leg elastic parts as well. One the left is the back elastic and on the right is a picture of the leg elastic gussets! Which I feel fits my daughter comfortably--allowing some stretch yet keeps close to her skin to absorb wetness.
Fabrics: The outermost fabric is a cotton knit fabric (elephants). The innermost layer touching your baby's sensitive skin is microfleece fabric. This truly is a soft fabric, but more importantly it help wick away moisture from your baby's skin. I am growing pretty partial to it because it helps keep her drier without the moisture sitting right on her skin. The fabric in between these two layers is a layer of organic hemp fleece. I personally love this fabric! For one thing, hemp is not only antibacterial but very thirsty! It has become one of the most popular of fabrics because it makes for one very absorbent cloth diaper. In my experience with hemp fabrics, I can attest that they can truly soak up lots of water.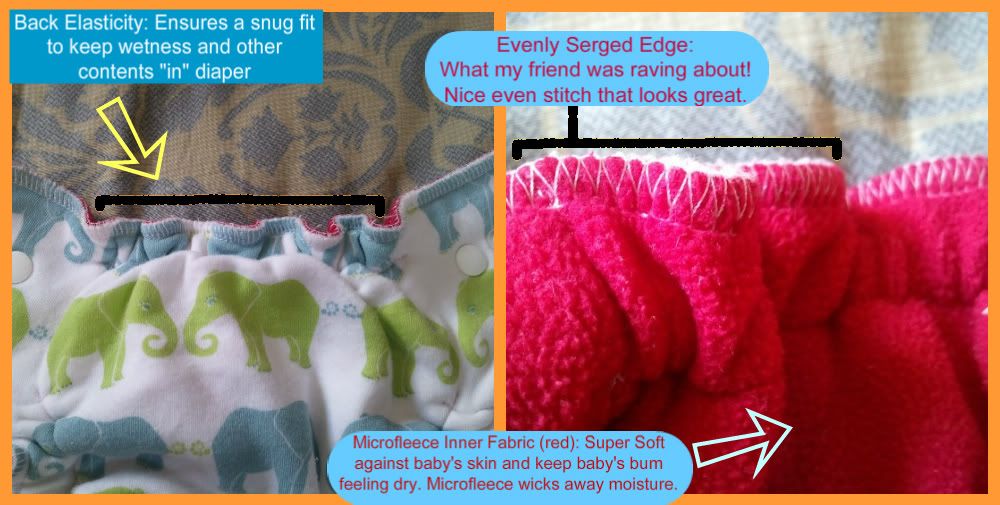 The Wings: Length of Wings is nice and long. I love that I do not have to wrestle with my daughter. It really helps aid in fitting the diaper quickly and easily. Not to mention allows more snaps to be on the diaper.
The Snaps. These are made out of high quality resin snaps. I am pretty sure they will not break down on you! These snaps ensure that my daughter can get the right fit. With seven snaps on the wing--4 allows for inner adjustment and 3 for top adjustments. The snap placement is just right, and I have not have been having problems with finding an adjustment. As you can see, this Nifty Nappy Fitted has snaps alternating every other snap--meaning that I can adjust the fit from the inside and outside. The outer snaps allows for the two wings to cross on top of each other as well as help fit the diaper onto baby well.

Insert: The fabrics that compose the lay-in insert is Organic Hemp Fleece and Organic Bamboo Velour. Again you have the hemp material that will soak up great and the velour serves as a soft absorbent fabric against your child's skin. I could not believe how soft to the touch the Organic Bamboo Velour was! It is a "yummy" fabric and something that to me is a luxury to have in a cloth diaper.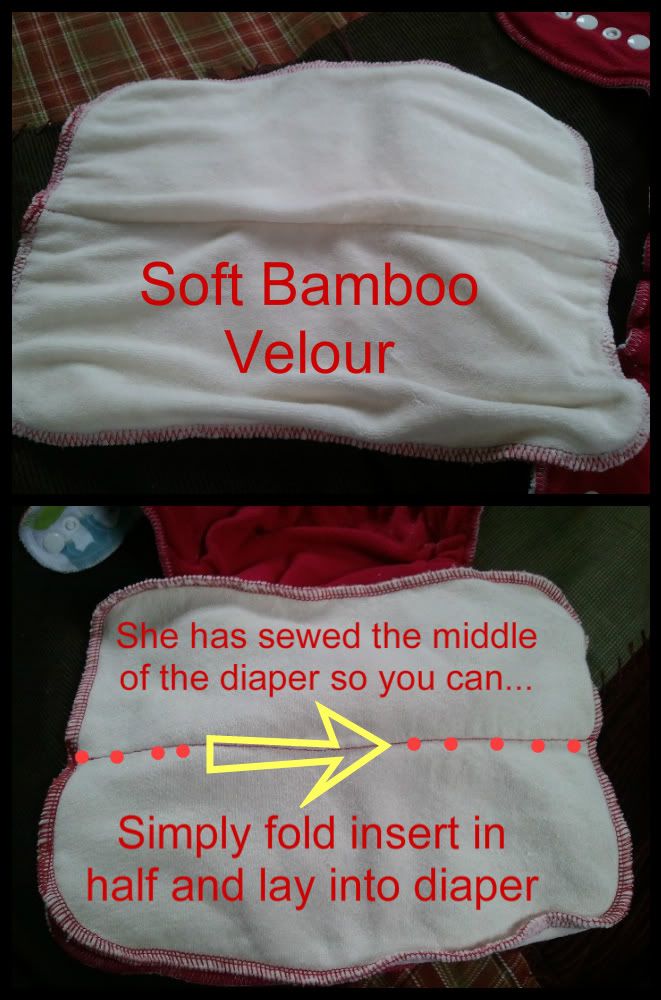 Over all I really love my Nifty Nappy from Red Barn Cloth Diapers!
It is so squishy and easy to find a good fit. When changing her into this Nifty Nappy Fitted diaper, it is quick to snap on. I am not fighting with the wings to find a snap that will work. The absorbency of the diaper is perfect for car rides, doctor visits, and night time uses. The micro-fleece layer does a good job at keeping her feeling dry and skin is not soaking in her pee. I find that My daughter does not show any signs of discomfort in wearing it. Rather she almost does not notice when she is wet in them--usually she tells me if she has wet her diaper and lately while using this diaper she has not told me. So maybe it is working too well at wicking!
My only small complaint has to do with the insert. I wish that the insert would be a bit bigger in size Although it is working good, what would make it great is if it was a little longer lengthwise. I find that it scrunches at the front of the diaper, if maybe it were a little longer it would not scrunch a whole lot and add even more absorbency to the front of the diaper. After prepping the diaper insert, I noticed that it had shrunk a bit and not quite as even. The top layer seemed bigger than the bottom layer and kind of lumps at the sides a bit. Though it does not affect its performance, I thought it good to mention it. I used hot water and did dry the insert through the dryer on a low-medium heat. So just give sunning or air drying your insert a shot and maybe make sure your hot water is not too hot! :)
I was a bit skeptical at this diaper being a One Size diaper--meaning it fits from newborn to potty training age (about 35lbs). But my Part 2 will be about using this Nifty Nappy diaper on a newborn!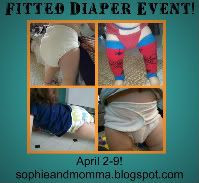 Giveaway:
Jeni from Red Barn Cloth Diapers has generously offered my readers a
Bitti Bum Nifty Nappy
Cloth Diaper! To enter fill out Rafflecopter Form. Giveaway is open to US/CAN. Any incomplete entries will be deleted. The winner will be announced on the blog, emailed, and have 48 hours to respond or another winner will be chosen.
a Rafflecopter giveaway
Disclosure: I bought a Nifty Nappy Fitted Diaper for the purpose of this review. Sponsor will be responsible for the fulfillment of giveaway prize. All opinions are my own and I was not compensated in any way to write this post. Nor was I obligated to write a positive review.