Our Experience with Diaper Rash:
As much as we all hate to admit it, cloth diaper-ers do have outbreaks of some nasty rashes! For the most part, they occur because of the build up in diapers over time. For our first year we hardly had a build up and rashes were a rarity. Mainly because we were trying out some really neat detergents at the time, and we had our own washer and dryer to use. Then we moved and we shared washer and dryer with another family. Her diapers were not washed frequently and build up started to happen.
Sometime after I said, "We don't have any rashes when using our cloth diapers," to a prospective family who were thinking cloth, the inevitable happened. She broke out with one of the worst rashes I have ever seen! Little by little build up in the diapers occurred and a rash resulted.
Unsure about what salves and cloth diaper rash creams were safe for our cloth diapers, I switched to disposables for a bit. It helped for a while. The rash was persistent. It also started getting a bit raw little by litt.e I was worried that it was more than a rash. I scoured the internet looking for ways to figure out if it was something more than a bad rash. My husband in the meantime was bringing home different ointments and diaper rash creams. We had switched to disposables fully because of fear of further ruining our cloth diapers. I was also trying to figure out what was going on with our cloth diapers--stripping it and thoroughly rinsing them at the time. It was through the internet I found
Earth Mama Angel Baby Organics
.
I had ordered Angel Baby Bottom once she started getting a rash, and was just waiting for it to come in. Once it arrived For the next couple of days I applied Angel Baby Bottom Balm onto her I witnessed the rash calming down, and her raw skin healed little by little. It was such a relief for all of us!
Review of the Angel Baby Bottom Balm:
Diaper rashes is not a fun matter, and it is very nice to have a salve such as Angel Baby Bottom Balm that works to also prevent diaper rashes. All you really need is a light coat of the salve on your child's bum. 2oz has lasted us for about 2 months now? That is with my daughter sticking her fingers in it and spreading a whole bunch of the salve all over her tummy and legs--thinking it was "lotion" as well as using it at least three times weekly. There are weeks in which I remember to use it and weeks that I don't.
Screw Top Lid. The 2 oz container is easy to pack with a screw top lid. No worries of the container popping open in my bag and making a mess. I almost prefer this type of closure as I have a toddler who can easily open containers. The Screw Top Lids is something she has yet to figure out.
I love a product that works. This sure comes close to being a miracle! I can tell with every diaper change if she has a bad rash, that the Balm is helping and healing. Little by little the redness disappears, and I can see visual improvement. For the little bit I do use on her, I am amazed at how mighty and powerful this Balm is.
Soothing. In short our daughter because of this bad diaper rash had trouble sleeping at night. She was irritable and no pain killer or anything helped. When we started using Angel Baby Bottom Balm on her, I noticed her irritable levels calmed down and she was able to sleep better through the night. She also was better at us changing her diapers. I noticed that when she had the bad rash she did not want me to change her diaper--I know because she goes into a kicking episode. As the Balm was rubbed onto her skin she seemed to calm down and become more cooperative with me. Two thumbs up for its soothing nature!
Smell. The aroma of the Balm is soothing in and of itself. It is not "scented" by any means, but the scent it gives off is a result of all that goes into the balm. The blend of organic herbs and natural oils create a scent that is both earthy and herbal. I find it pleasant and almost relaxing of a scent.
Cloth Diaper Safe: Something that I liked about it was that it was that it was cloth diaper safe. I have been using this salve for about 2 months now, and we have not had a problem with our diapers showing signs of becoming less absorbent. It is also composed of all natural ingredients that works to soothe and heal not only diaper rashes but also itchy and problematic skin and soothes thrush!
For more than just Bottoms: For me, I do not have diaper rashes, but I do use this Balm periodically for my itchy skin (psoriasis). I wanted to try it out one day, and found the Angel Baby Bottom Balm quite soothing. It gave me a cooling sensation and the urge to scratch soon dissipated. I am quite fond of using the Balm on myself as well as on my daughter. I can only imagine how good this Balm must feel on her rashy red bottom. I use this product quite frequently as a first aid item. I simply apply a thin coat onto her scratches, daddy's boo boos, and my minor scrapes. It's multipurpose use is well adapted into our household.
The Balm itself is this light yellow color. Get a little bit of the balm on your fingers and you notice it begins to melt away almost immediately from your body heat! When I rub it onto my daughter I get a thin coat of it on her rashes and scrapes. It does tend to be a little "shiny" at first, but as one rubs it in it gets absorbed into the skin and becomes a dull shine. You feel it, but it is not a nasty oily feeling at all. My skin feels moisturized after rubbing the Balm into my hands! For my daughter I usually use what is pictured in the picture down below. A little bit goes along way.

Here is a round up of what their products are known for:
Simple Organic Ingredients-- (No Beeswax, No Parabens, YES VEGAN)
Olea europaea (organic olive) oil, Butyrospermum parkii (organic shea) butter, Euphorbia cerifera (candelilla) wax, Simmondsia chinensis (organic jojoba) oil, Melaleuca alternifolia (organic tea tree), Lavandula angustifolia (organic lavender) flower oil, Calendula officinalis (organic calendula)flower extract, Hypericum perforatum (organic St. John's wort) flower extract, Stellaria media (organic chickweed) extract, Plantago major (organic plantain) extract, Commiphora myrrha (myrrh)
A Company that cares.
I also enjoyed the fact that this company really cares for moms and provides not only baby items, but also products for the mother as well. I have wished I could have heard about Earth Mama Angel Baby during my months of pregnancy. The products they have for mothers really are meant for meeting their needs and providing comfort for them on so many levels. They have everything to help Mamas from Pregnancy, Postpartum, Breastfeeding, and more.
Organic Morning Wellness Tea
was one of their products that I could have benefited greatly from!
There is also a section of Earth Mama that offers information and comfort for those going through
Baby Loss
. Earth Mama Angel Baby is a great place to find tools and information and products to meet Mamas with a variety of needs. I know that I have found their
blog
quite helpful.
Where to Buy?
I enjoy using our Angel Baby Bottom Balm. I am ready to make another purchase just to stock up on it!
You can purchase Earth Mama Angel Products from their website:
Earth Mama Angel Baby Website
Right now they are having a sale--30% one regularly priced item.
Discount is not applicable to bundles or already discounted items.
Use Code: PINIT at check out.
Be Social with Earth Mama:
Earth Mama's Blog:
http://www.earthmamaangelbaby.com/blog
Mama's Blog:
http://www.mamasherbgarden.com
Facebook:
http://www.facebook.com/EarthMamaAngelBaby
Facebook:
http://www.facebook.com/HealingHeartsBabyLossComfort
Twitter:
http://twitter.com/EarthMamaHQ
Pinterest:
http://pinterest.com/EarthMamaHQ/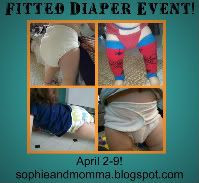 Giveaway:
Thank you to Earth Mama Angel Baby for being a sponsor in the Fitted Diaper Event! One winner will be chosen at random to win this amazing Angel Baby Bottom Balm! To be eligible you must be 18+ to enter, Resident of US or CAN. To Enter please fill out the Rafflecopter form below:
a Rafflecopter giveaway
Disclosure: This post may contain affiliate links, but in no way does it affect my review of the product. All opinions are my own, and I purchased this product on my own. The sponsor is responsible for giveaway prize. I was not obligated to write a positive review or even write a review.