Camilia Teething Relief:
Camilia

is a homeopathic medicine that works naturally and safely with the body to relieve teething pain without side effects or risk of overdose. It's a one-step teething solution for pain and irritability that's easier than the two-step process that some parents use for treating teething pain (a short-term topical numbing agent applied frequently throughout the day combined with a longer-lasting anti-inflammatory at night).

--Information taken from their website.
It contains natural ingredients: Chamomilla 9C HPUS*--Relieves teething pain accompanied by irritability, Phytolacca decandra 5C HPUS--Relieves painful gums and Rheum 5C HPUS—Relieves minor digestive disorders associated with teething. all of which are included in the Homeopathic Pharmacopoeia of the United States(HPUS*). I thought teething relief and dealing with irritability using natural ingredients was a good start for us.

Using Camilia:
Today was one of the worst days I have had in a while. My daughter was having a terrible, horrible, very bad, no good teething day! She was not eating, and just not acting herself because she was so cranky and throwing little tantrums all morning. Not a fun day for me as a mom either. I tried really hard to get her out and about in order to get her mind off of the pain, but nope it did not work. She became very irritable and yes, mommy did too.
That is when
Camilia Teething Relief
: Painful Gums and Irritability came in. Camilia is a Homeopathic Medicine which was definitely something new to me. We have tried other teething gels and remedies only to find that the gels really don't work well for us--I get bitten, the q-tips get gross and partially eaten, and I hardly think any of the gel gets to the gums!
However with Camilia, I was able to administer her a dose fairly quickly and easily. I simply snapped a single dose off and twisted the cap off. It was actually fun for me to administer my daughter the Camilia. Administering her a dose did not involve me rubbing gel on her gums—or me having to deal with a q-tip. It was not even a challenge to get the contents into her mouth! She responded fairly quickly and drank down the contents.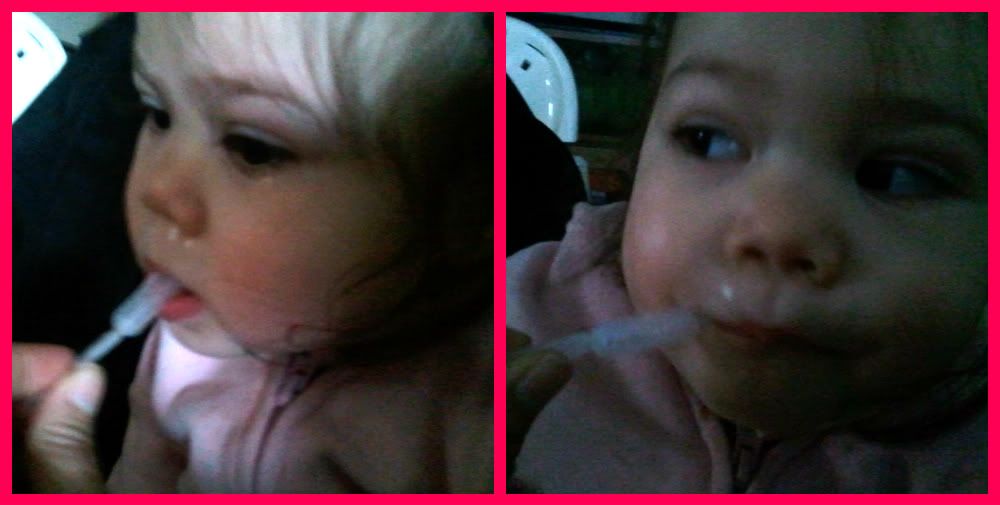 To my surprise she settled herself down, and remained so for a good forty-five minutes. Later at the store, I could have used a couple of doses, but had forgotten my Camillia at home. I feel that it did help her quiet down for those forty-five minutes. I cannot wait to try this again tomorrow for I know her molars are coming in, poor thing! What if she had not quieted down, you ask? Well, If she had not quieted down and kept crying in pain, I would have had to follow the instructions which read:*Repeat as needed, every 15 minutes for 2 more doses. Lucky for me she was great with the first dosage.

More info:
In each box are 15 single dosages. The way it is packaged is quite practical. I feel it is sturdy enough to withstand my diaper bag and easy enough to find when I need it-- Which is especially important when I am on the go with a teething toddler.
Where to Buy: Camilia is available at Walgreens, Whole Foods and The Vitamin Shoppe, as well as many local health food stores for a suggested retail price of $7.99 for a 15 dose box. Camilia is made by Boiron, a world leader in homeopathic medicines.
Giveaway:
Thanks to our Boiron for sponsoring this review and giveaway, I am able to offer one 15-dose box of Camilia to one lucky winner and teething toddler to try out! The giveaway is open to U.S. residents only. Please fill out the Rafflecopter form below. I do monitor entries so please take time to complete entries--don't leave out your information if information is required, Thank you!
a Rafflecopter giveaway
Disclaimer:
This review and giveaway was sponsored by Boiron. All opinions expressed are my own, and a positive review was not guaranteed. The product was provided free of charge for review, as well as for the giveaway. No other compensation was received.