My Daughter drinking 8th Continent Soymilk!
My husband is lactose intolerant as well as allergic to milk. For us we utilize Soymilk as a milk substitute and incorporate it into our baking, breakfasts, and chocolate milk. Soymilk is great for substitions as well as for those who are lactose and gluten intolerant. 8th Continent Soymilk was a brand I never really thought to try out, and am very glad I did! Their Original flavor contains 8 grams of protein and is a good source for Calcium. They have a variety of flavors and offer some of the best soymilk I have ever tasted.
8th Continent Soymilk Review:
For today's breakfast I made some scrambled eggs and sausage. Instead of using whole milk I used 8th Continent Soy Milk Original flavor. The taste of 8th Continent
Soymilk
is light and has a hint of sweetness and to my husband's opinion "Not Bad of a Soy Milk." Adding the soy milk to the eggs added a light and tasty sweetness to our breakfast. I rather enjoyed it. Texture of the liquid was similiar to regular milk with the exception of its thickness. It is a bit thinner than milk.
I also tried out 8th Continent Soy Milk Flavor in Light Vanilla which features 40% fewer calories than their Vanilla Soymilk. This is my favorite of the two types I have tried. It is nice and light tasting with a hint of Vanilla reminding me of a coconuts and is not to "beany" of a flavor. For some reason to me it has a coconuty flavor.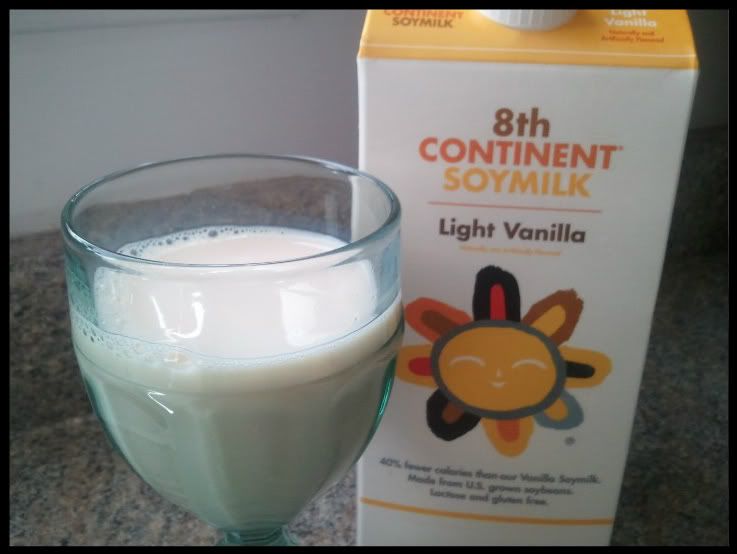 I love utilizing 8th Continent in and mixing into my oatmeal. A glass of
Original
in the morning is perfect for getting some Calcium and its 8 grams of Protein too. With Eight Different options I think that 8th Continent Soymilk has something that will appeal to anyone. The one flavor I am going to be searching for is their Light Chocolate! The two local grocery stores in which I got my 8th Continent Soymilk was at my local Safeway and Albertsons.
About 8th Continent Soymilk:
The one aspect that I truly like about
8th Continent Soymilk
is that it is made from
U.S. grown soybeans
. We are not only helping support my own country, but also the families whose jobs depend on growing and developing 8th Continent! The soymilk is only found in the United States and focuses on family crafted products rather than manufactured--quality over quantity. I love the principle of quality versus quantity. If one is ever given the opportunity to buy a product that is equally priced but the quality is diffrent--there would not be too much of a battle. Also, the soybeans have not been gentically modified.
Charity Organizations: 8th Continent is involved with participating in Charity organizations such as Child S.H.A.R.E. , Autism Speaks, Cystic Fibrosis, Light the Night-blood cancers, Orangewood Children's Foundation, and so much more. You can find more information on their charities here:
8th Continent Charities Support
Follow their social networks for news updates and special promotions!
Giveaway:
8th Continent Soy Milk has generously given me the opportunity to review their products along with the opportunity for
FIVE winners to receive 2 free quarts of their Soy Milk!
Giveaway is Open to US residents. To Enter please fill out Rafflecoptor form below:
a Rafflecopter giveaway

Disclosure: I received 2 Free 8th Continent Soy Milk Coupons from the sponsor in order to try out the product. All opinions are my own, I was not compensated in any other way. I was not required to write a positive post.