Vegetables are one of our biggest obstacles right now. Our daughter is beginning to become quite picky especially when it comes to textures and certain foods. But thanks to
Copy-Kids
, She rather liked chomping on the vegetables and copying the kids as they ate their veggies! At first I observed her just sitting in her high chair watching the other kids eat, studying them and soaking in the situation. When I set a bowl of vegetables in front of her, she grabbed the red bell pepper and started copying the children eating red bell peppers!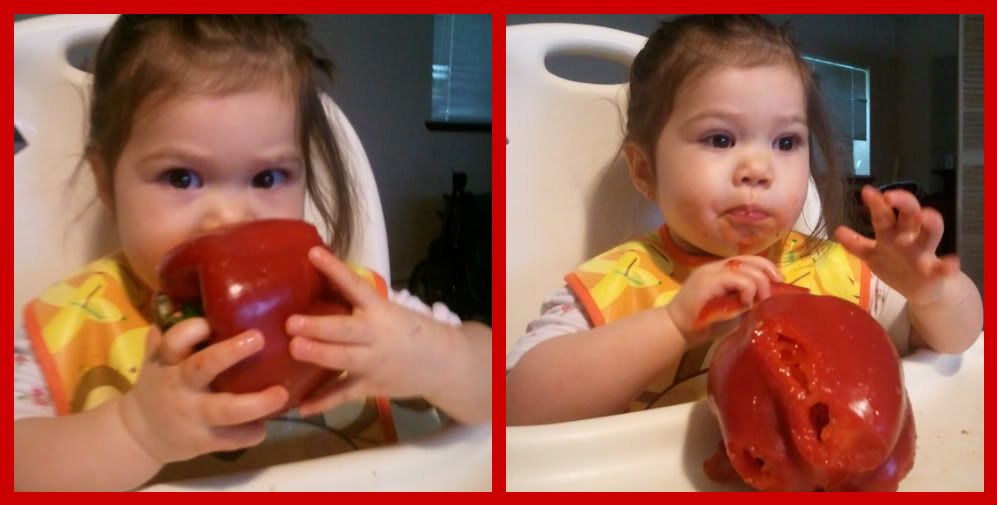 I believe that
Copy-Kids DVD
really aided us in jumping this hurdle when it comes to vegetables and fruits. She is starting to gravitate towards mimicking other children right now, and loves to follow what they do and say! Copy-Kids DVD has hit the mark by applying this towards helping families get their kids to eating healthier. The concept of "copy" is really quite simple but effective. The concept paired with healthy eating habits and kids--ingenius!
Another thing I really liked that there was a positive atittude towards vegetables and fruits--which was rather refreshing! Kids eating and enjoying their vegetables was just so amazing and thrilling to see and I know it got my daughter and I excited about eating vegetables and fruits again!
After watching Copy-Kids, I was a bit pricked in my heart. I have begun to rethink what I prepare for myself and my family. I am aware now more than ever that I am an example to my daughter and family. I still cringe at the thought of eating my brocolli, peas, and peppers! I need a better attitude towards my vegetables. After watching the Copy-Kids eat their veggies I am going to have to rethink my own eating habits. I need to walk the walk and talk the talk and in matters of eating---I need to not only eat my veggies more visibly in front of my daughter but eat them with enthusiasm and enjoyment like Copy-Kids.
Interested in seeing a little clip of their Copy-Kids? You can view the sizzle reel here:
http://copy-kids.com/
I think that this product is a very positive approach for encouraging kids towards eating healthier foods such as Vegetables and Fruits. You can also visit them on Facebook:
http://www.facebook.com/CopyKids
.
Ready for a Giveaway?
I am really excited that they have partnered with Sophie and Momma's blog to sponsor a giveaway! One reader will win a copy of the same Copy-Kids DVD that I received. Giveaway is open worldwide. Entrants must be 18 years or older to enter.
a Rafflecopter giveaway
Disclosure: I received a Copy-Kids DVD in order to fasciliate this review. I was not required to write a positive review. All opinions expressed here are mine. I was not paid to write this post.