Utilizing non-toxic, probiotic cleaning agents, Natural House products are strong enough for commercial clean-up, yet safe and gentle for all of the members of your Natural House.
About Natural House Probiotic Cleaning products:
These
Natural House
products are biodegradable, non-toxic, and the ingredients are plant based. Though it is a natural alternative to harsh chemicals they are tough against things like dirt, grime, grease, and odor! This company is a family based company. The Powers family actually were in search for a better cleaning product that would be safe for those with children and even pets! As we all know our friendly furry family members love to drink out of the toilets at some point--and we do not want to get them sick! Kids love to get in contact with anything and everything--even our toilets and sinks! And the Powers family came to develop natural household cleaning products that are safe for everyone and still powerful enough to be used for commercial uses.
Flushy, Trashy and Sinky Review:
Life before Natural House Probiotic Cleaning Solutions
Tough areas I do not like cleaning are the toilet, trash bin, and the sink. For one, I hate dealing with the toxic smelling chemicals such as bleach. And secondly, I always am worried about the fumes getting breathed by my daughter. So I felt that cleaning the house was always a burden and a hassle and hazardous!
I was excited to review these natural household cleaning products. I was very surprised at how small the package was! Which after learning more about the product...I realized why they were so small! These cleaners are powerful, not because of a harsh chemical but because of the probiotics within these cleaners. They keep cleaning long after I used them! Not to mention, the scents within them are light and airy! I love that I
do not
have to hold my breath while spraying or have the room ventilated because of fumes. These products do not take up a lot of space, and because the probiotics continually clean days after I have used them, I can rest assured that I only need to routinely clean about once every week.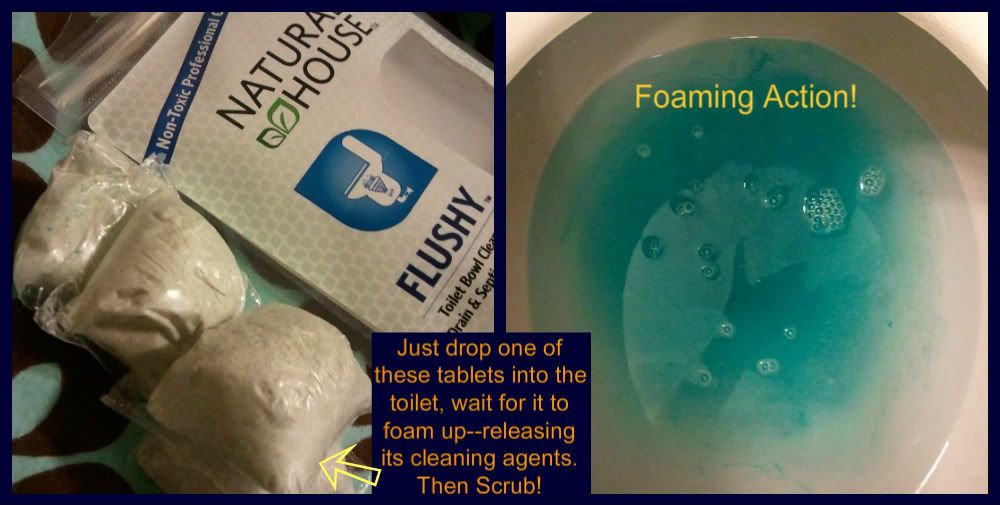 There are four tablets in each one month's supply. So simply, all I need to do every week is drop one of these in, watch it foam up, and scrub and flush! The probiotics work days after I have used it, so all month these probiotics are fighting to keep my drain, septic and toilet bowl free of not only odor causing bacteria but also keeping my septic tank in a good healthy condition.
I feel like the
Flushy
has really helped relieve me of an arduous job. This is doable for me as a busy housewife. So simple to do and helps me maintain a clean house for my family.

Normally I had used water and bleach to clean and disinfect our trash cans, and yes it is effective, but does not last very long. I soon find that after a couple of days it begins to smell again. Whatever I did not sucessfully scrub off begins to smell bad!
Trashy works for diaper pails too! I have had issues when it comes to diaper pails and so I gave my diaper pail a quick spritz. Very sweet deodorizer!

Now I never really cleaned out my sink drains. The most I usually do is run hot water down my drains. We usually just every couple of months take the snake to declog anything blogging our drains too. I cannot literally see anything different, but I was very surprised at how easy it is to use Sinky to maintain my sink. I simply popped the tablet in, and let hot water foam and fizz the tablet up. That was it! So simple to use. I know too often we have grease and other fatty substances go down our drains. So I am looking forward to seeing how well it helps out drains in the long run.
I do not have a garbage disposal, but I remember when working for an apartment using commercially sold tablets just like this! The exception with the Sinky Tablets was that it did not have a potent smell. I think that for those with garbage disposals this would be a great product. For one thing it is simple to use, and the probiotics actually help to digest food scraps within the garbage disposal. The Sinky can also help with odor smells that are found in the disposals.
Where to Buy:
Natural House products are available for purchase on their main website:
Natural House Website
And
Natural House products are available on Amazon
I have to say that their products are not badly priced at all! I do not have to go out of my budget for eco-friendly and safe products for my home.
Giveaway:
One lucky winner will win a 30 day supply!
The giveaway is open to U.S Residents only.
The giveaway items will be shipped directly to the winner. Must fill out Rafflecopter form to enter.
a Rafflecopter giveaway
Disclaimer: I received one or more of the products mentioned above for free using Tomoson.com. Regardless, I only recommend products or services I use personally and believe will be good for my readers.