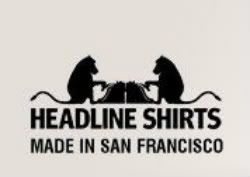 My husband wins. It has always been a battle getting him to dress up nicely. He will always pick up his
Holey Armpit Shirt
over any of the nicely hung shirts that are
Whole
. He dismissed the thought of wearing dressy shirts a long time ago. I have asked him why. His answer is simply that he prefers shirts that are broken in and have that softness. But his idea of broken into is that his shirt is so "soft" that its falling apart at the seams!
My dear husband is all about....COMFORT.
He does have STYLE though....just not my style. When we were going out on a date night I tried to persuade him to wear something that would please me--with a sly twinkle in his eye he mischievously grinned at me and wore a funny shirt that thankfully was cleaned and
bore no holes
. It seems that he has a handful of shirts that say something funny or have a picture of something interesting on it--and he cycles through them on a weekly basis!
Review of Headline Shirt--
Vader Piñata
So when I was given the opportunity to head over to
Headline Shirts
, I knew that this was right up my husband's alley! Intriguing, Interesting, and Intelligently Funny shirts can be found when perusing their selection. They carry some really unique shirts that I have never seen before. I discovered that they draw up ideas and brainstorm their own shirts! Which is cool because one can see a mixture of American History, Current Events, Trends, and San Francisco humor instilled in the shirts. Their VintageBlend shirts are hand sewn and made in San Francisco and are composed of a 60/40 Soft Cotton-polyester blend.
We ordered a size Large. Ordering from their website was smooth, straightforward and uncomplicated. Orders ship within 24 hours, and it nice to receive an email telling me that my order shipped along with a tracking number. March 23 I ordered my shirt and on March 26 my shirt arrived!
Headline Shirts
Service was great.
The new shirt fit him well and to his delight it was Comfy, fit his Style (funny-hilarious-attention getting-Star Wars), and above all Soft. His Vader Pinata shirt did not have a starchy stiff feel that most new shirts have. Rather this Headline Shirt was supple and a relaxed fit on him. He wore it to today to give his Supervisor at work (also a Star Wars Fan) a bit of a laugh!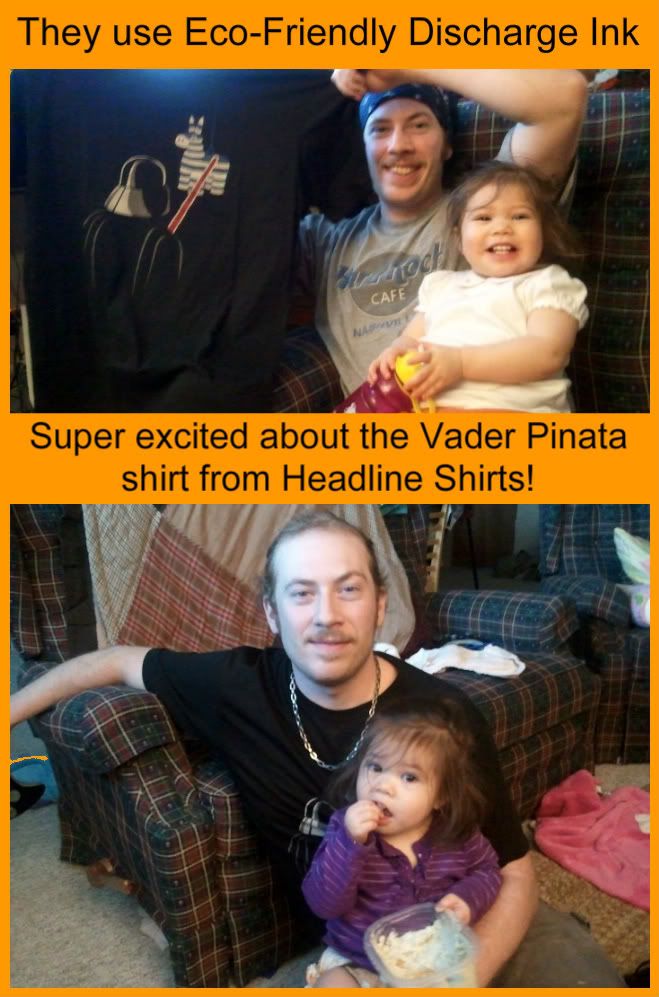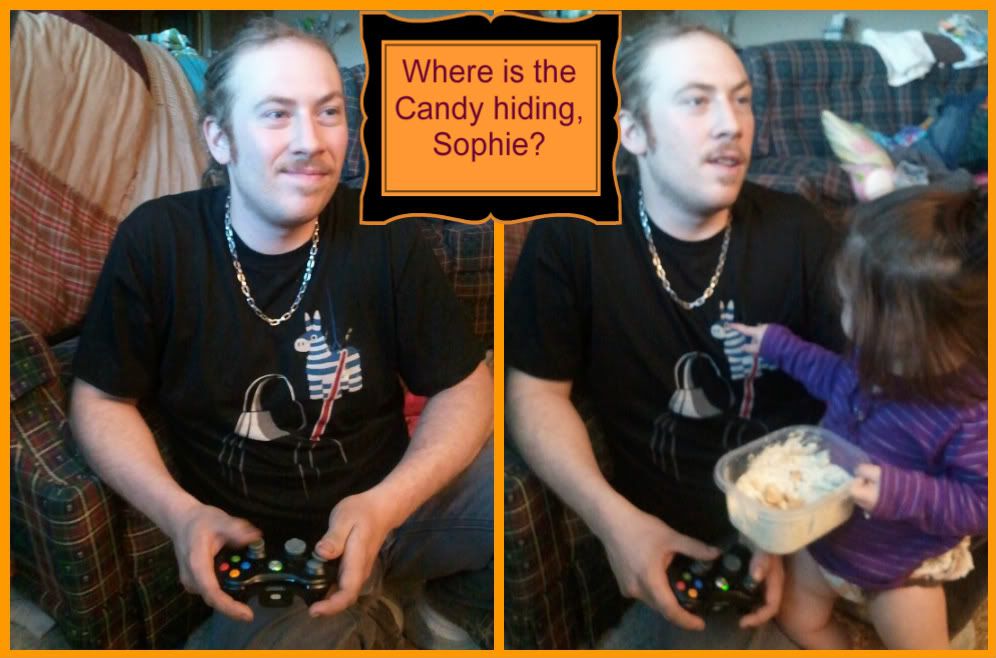 Why we love it:
Who does not like the idea of Darth Vader attacking a Pinata with a Light Saber? The graphics on the shirt is bright, and easily seen from afar. First people may be drawn to see the Pinata and then smile as their eyes move towards the sight of Darth Vader! It strikes a smile in most people who catch a glimpse at my husband's shirt. The shirt itself washes nicely too. We washed it and experienced no color fading or bleeding. It hasn't shrunk to kids size after drying in the dryer. The softness, quality, and overall fit of the shirt gets two thumbs up from us!
Why all the Baboons?
Well did you know that the monkey (baboon) runs the show? Just kidding, Robert Baboon is the chief man behind the business and hence the baboons in the logo. There are no words to describe about how Headline Shirts came to be and how they operate. It is said
a picture is worth a thousand words
, and they have pictures you need to see! Read more about Headline Shirts-- you want to check it out!
About Headline Shirts
**Sign up for their newsletter with link below and get a $5 coupon!**
**
NEW KID HEADLINE TEES
!**
Headline Shirts homepage:
http://www.headlineshirts.net/
Headline Shirts Facebook:
https://www.facebook.com/headlineshirts
To sign-up for their newsletter and get a $5 coupon use this link:
https://www.facebook.com/headlineshirts?sk=app_133697453315011
Headline on twitter:
@headlineshirts
Giveaway: Headline shirts has generously offered to sponsor a giveaway on Sophie and Momma's Blog! One winner will be chosen at random to win a Headline Shirt. To enter fill out the Rafflecopter form. Giveaway is open Worldwide. Giveaway will close May 02, 2012 12:01am EST.
a Rafflecopter giveaway
Disclosure: Sponsor sent me a product in order to facilitate this review. I was not required to write a positive review, I was not compensated in any other way to write this review. All opinions are my mine and my family's. Sponsor is responsible for fulfilling giveaway prize.