About Nature's Sleep:
Nature's Sleep's mission is to provide every

body

the opportunity to enjoy a better night's sleep at affordable prices, while maintaining a concern for our environment.

Our passion for cost-effective, quality sleep innovations requires substantial and ongoing research and development in order to manufacture and market our various collections of premium pillows, specialty sleep sets and other sleep innovations.
We travel the globe to locate and procure the finest premium materials and other cutting-edge goods. All of our products are designed with the highest concerns for health and hygiene and we are committed to providing comfort that is safe for you and safe for the environment.
As you relax in our beds, your entire body is cradled and comforted from head-to-toe.

Providing natural comfort and balance for your body and mind to revitalize and rejuvenate.
My Review: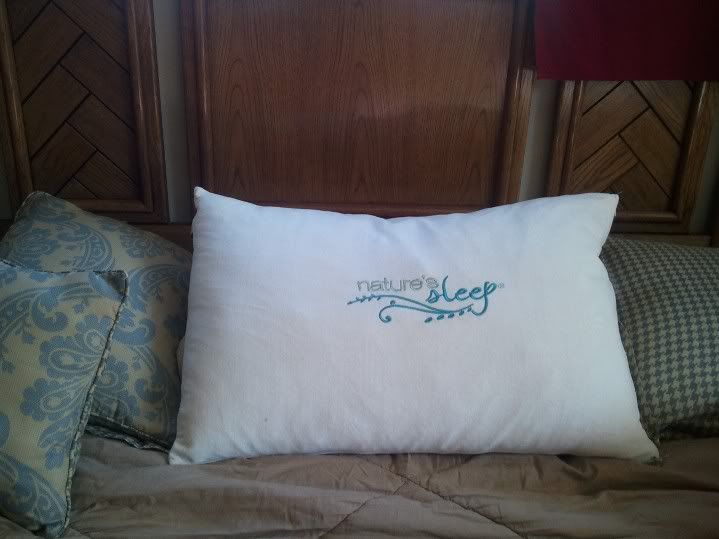 My Husband loves this pillow:
It has been a good almost two weeks of using Nature's Sleep Faux Down Pillow. I have to say that I am so surprised that my husband has actually liked this soft pillow. He is usually a firm kind of pillow man, but this pillow has really brought to him a good night of restful sleep!
My Favorite Sleeping Positions:
I use this pillow to support my back and head. I lay it lengthwise and sleep on top of it some nights. I feel great support and comfortable in this position. Another favorite is the classic side position with the pillow serving as a giant Teddy Bear as I hug it at night. I believe if you are a back sleeper or one who loves to hug pillows you will like this Faux Down Pillow. The description on the website recommends this pillow for Side, Back and Stomach Sleepers. I have to admit I am all three, and really confess that I like this pillow because it works for the type of sleeper I am.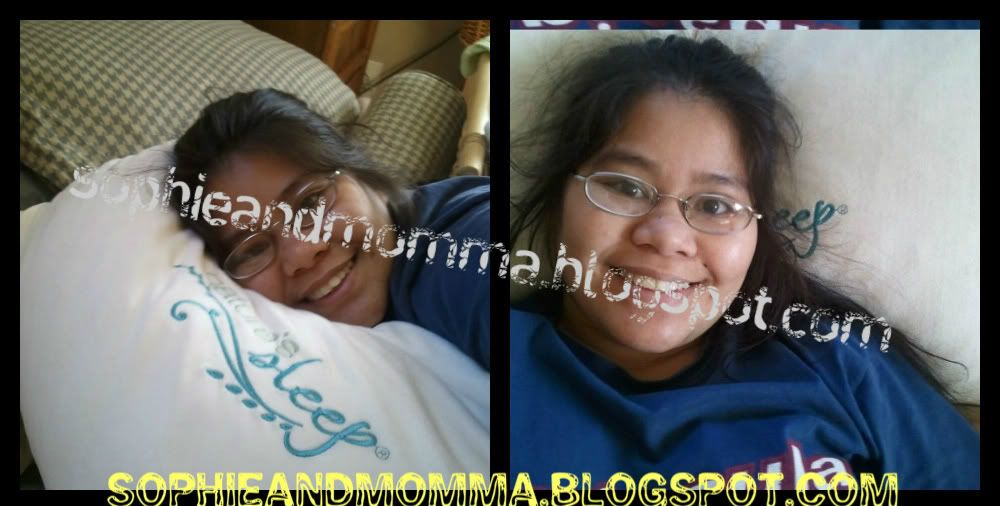 Soft:
The Nature's Sleep Faux Down Pillow is very soft and when one lays their head in it, will experience a bit of sinking into the pillow. It is softer than what I am used to. The pillow's length is quite long which is beneficial to me as a side sleeper. I love to hug my pillows and tuck a part of it under my head. It is in a sense true to its description as the Teddy Bear Pillow!
Also, the original Velour Cover and Cotton Encasement is made to protect against Allergens and Dustmites. It is super soft, and almost don't want to put my own pillow case over it! In fact when we first received the pillow I did not use my own pillow covers for the first couple of nights. I loved it! One can easily unzip the outer case and launder it if need be.
Support:
My husband is a back sleeper when he can get comfortable. I am watching him now as he sleeps and the pillow really does support and cradles his neck and head. I am starting to sleep on my back too if it was my turn with it--and I find that there is an actual support I get with this pillow. With our other pillows I find that it is much too firm and the pillow itself seems to push up against me instead of offering my head and neck support. With the Nature's Sleep pillow I find that I feel embraced and supported at the same time. With the Faux Down pillow my head rests down softly into the pillow and feel more relaxed because I am not getting an upward resistance that our other pillows give us. I can physically sense my body relax because it is not fighting against a pillow.
Size:
I was liking how it fit into my pillow cases and there was no need to buy new specially made pillow covers. I also did like that it was very fluffy and equaled the thickness of two of our older pillows. It is a typical size for a pillow--20in Wide by 30inches Length. It is long enough to hug and as for when I sleep on my back, it is nice and wide for my head to fit comfortable.
Warrantied:
Comes with a Limited 3 year Warranty. I have never really heard of a 3 year warranty for pillows before! I am glad that they offer it.
Conclusion:
I have to admit that at first I was skeptical at how soft it was. A friend of ours let us use one of their memory foam pillows (Not a Nature's Sleep Pillow) and I have to admit that I could not get the least bit comfortable because it offered zero support and was soft like pudding! After experiencing that I kind of gave up on trying to find a good pillow-because even a memory foam pilllow that was way out of our budget was simply uncomfortable! So we ended up just sewing up our thinning pillows together. Or just stuffing two pillows into one pillow case--Depending on whether we wanted it thick or thin!
Here is a picture of our Old Pillows:
After the birth of my daughter a family member came to stay with us. My grandma. She stayed with us for about 2-3 weeks. She saw how thin our pillows were and decided to give it a good wash and fluff in the dryer. It was embarrassing, really. My husband and I never bought new pillows after we got married. 2 1/2 years later here is my grandma washing our pillows and getting them ready to sew 2 pillows together so they're a little fluffy! I was sorely embarrassed. Yet, Pillows never fit in the budget and we never could figure out what made a good pillow! We did not want to overspend on something that was a flop, and did not want to spend money on a cheap one. So we just endured another year and a half with our "Grandma-fluffed-Sewn" Pillows.
But Nature's Sleep ventured into our world and they Gifted us with a wonderful pillow!
After sleeping and using Nature's Faux Down Pillow a couple of nights, I have to say that I am rather fond of it and my husband is too! I never thought that I would ever say this cliche phrase but, here it goes--My head was so nicely supported by this Faux Down Pillow that I did feel that I was "sleeping" on a cloud for once! And we could have never been more happier! My daughter loves it too! After shopping for pillows last weekend, my husband and I were convinced that we are going to have to invest in a Nature's Pillow. So, as a testament to how much we love it, we are going to order it with my husband's next paycheck! Yay, no more sharing :)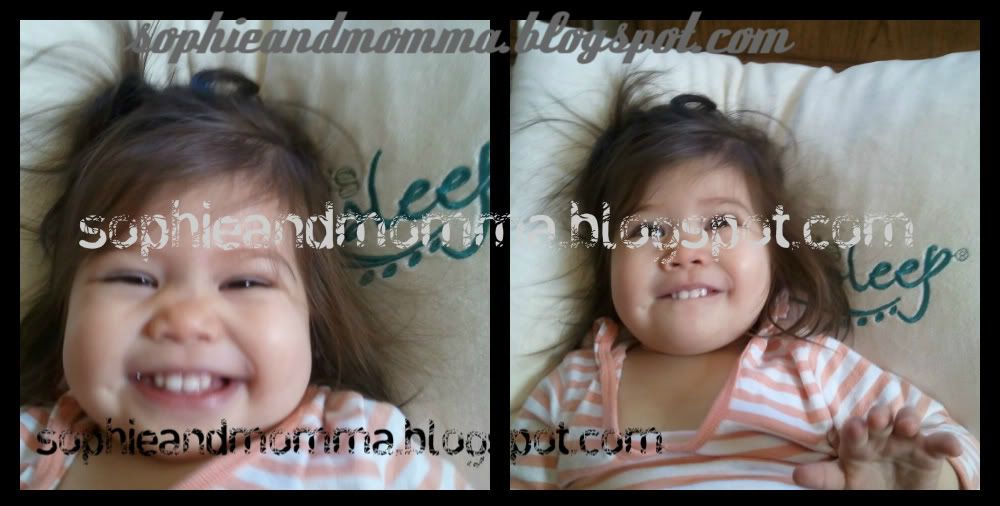 Thank you to Nature's Sleep, you can get 50% off

by using code BEARS50 for any purchase off of the website at http://www.naturessleep.com
Giveaway:
Please Fill out Rafflecopter Form. Follow Instructions. Giveaway is open to US/CAN only and to ages 18 yrs. and older. Giveaway ends March 22, 2012 12:01AM EST.
a Rafflecopter giveaway
Disclaimer: I was provided a Nature's Sleep pillow for the purpose of this review. I was not compensated in any other way. All opinions are my own and I was not obligated to write a positive review.