Okay bear with me for I absolutely am thrilled with chemistry and microbiology. I think it is so important to know why something works

,

instead of just believing what someone has claimed! It is very wise to check the facts and see the research. So, I am excited to see the research TheraBreath has done as well as how just simple science and research is used to combat some of life's biggest problems!
Did you know that TheraBreath products are based upon science?
I know that many common oral hygiene companies and products have claimed to have "done clinical research" but to what extent? I have found that if you go to a Colgate website or any other brand, you will not find their
research out in the open--for everyone to read about the research findings for themselves. TheraBreath however has everything right there out in the open, nothing to hide. Their articles of research are easily accessible to anyone. You can check out their many research articles right on their website!
www.TheraBreath.com
TheraBreath is a company that is based upon science and you can see "why and how" their products work to give you a healthy mouth. Not to mention that the founder and creator is
Dr. Harold Katz, graduate of UCLA in the School of Dentistry with a degree in Bacteriology (Dr. Harold Katz, Wikipedia)
.
Dr. Katz arose to find a solution for his daughter who had chronic bad breath. It seemed that they tried everything suggested, but to no avail. His diligence paid off however when he discovered the source of the problem. Anaerobic Bacteria in the throat and tongue were the culprits, producing sulfur as a waste product in the mouth. Don't you love it when a dad goes this far for his daughter? Well, thus was the beginning of California Breath Clinics where he did more research and helped others with other bad breath problems. I really liked how he out of personal need, continued to seek after an answer, found it, and then was able to develop it into what it is today, TheraBreath.
Microbiology and how TheraBreath works!
The reason why bad breath happens is because of our local flora of bacteria in our mouths processing food in our mouths. These are good bacteria and are not harmful to us, they help us out by breaking down the food left in our mouth. Unfortunately the chemistry of breaking down the food is that these anaerobic bacteria, produce sulfur compounds. Sulfur as you know is not a pleasant scent, hence we have our bad mouth situation. From my microbiology class, I learned that
anaerobic bacteria
is bacteria that loves an environment without oxygen. Meaning that they can best function when there is little to no oxygen present. Ever wonder why when you woke up you had bad breath? Well, at night a person generally has their mouths closed creating the perfect anaerobic atmosphere for the bacteria. Once there is low oxygen levels the bacteria is able to perform its duty of breaking down food particles in your mouth and thereby releasing
Volatile Sulfur Compounds
.
If the best ideal environment for anaerobic bacteria is little to no oxygen, then the best way to combat these microbes is...to introduce oxygen into their environment--as well as to make sure that food is not trapped in your mouth. Now, I believe that the bacteria in the mouth is not an obligate anaerobe.
Obligate anaerobes are often killed in environments where oxygen is present
(Nester, Microbiology a Human Perspective).
So, TheraBreath has incorporated an oxygenizing factor into their products, OXYD-8. You can check out more information on their site, and this is one article that is worth reading with seven reasons why TheraBreath is better than other toothpastes!
http://www.therabreath.com/art_whyTBworks.asp
I was sent TheraBreath Toothpase, Oral Rinse, and Lozenges to review.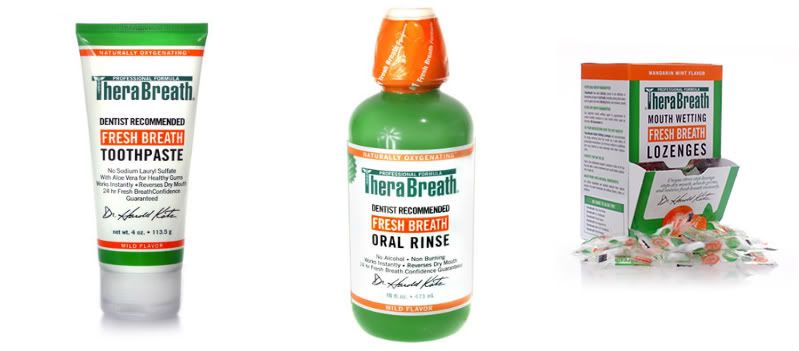 My Review and Experience:
I was glad to see that Sodium Lauryl Sulfate was not among the ingredients in this Toothpaste! I have learned how harsh this is to a person, and yet I see it everywhere! I was also conveniently surprised to see that Aloe Vera was incorporated into their toothpaste to promote healthy gums.
So, I took 2 minutes as directed and brushed
my teeth, tongue, and palate
and so did my husband. I was ecstatic when he tried it. And when he commented that it did not burn at all, I almost did a flip and a victory dance! You see, he has had no lucky with toothpaste, and it is always painful when he brushes. We have had the hardest time finding anything that works for him. All the "sensitive" toothpastes, have always left his mouth chafing inside, and his mouth would slough out skin. Not fun at all. Also, in other brands we found that his lips and other skin near his mouth would burn or turn red when the toothpaste foamed up.
TheraBreath, I am happy to say, had no ill effects on him. I think it must be the Sodium Lauryl Sulfate that he is allergic too or something. We are tremendously happy with it!
The next thing we tried was the Oral Rinse.
It was like swishing water that had a cooling refreshing sensation to it. No counting the seconds till we had to spit, it was easy to hit that 1-minute mark. I appreciated that the directions also said to gargle to clean the throat--I did not know why at the time until I read up on his research:
The throat is a major source of bad breath.
After using this product for about two weeks,
we just found that this works! Overtime, I know that this product has kept our breath fresh, and free of odors--although I know that sometimes, I can tell when somebody forgets to brush! Hmm...that is when a mint comes in handy! The Lozenges were really strong, not a bad strong. I would pass them out to my guests just because I was excited about TheraBreath and wanted them to try it out! I do not have a problem with dry mouth, but I can defintely tell that I start producing a lot more saliva right after brushing and rinsing my mouth with TheraBreath or using a Lozenges. So if you suffer from dry mouth, this is something that you will want!
Well, my final thoughts is that we recommend this product, it works, and am so thankful for TheraBreath for allowing us to test and write out this review! We put it to the test, and our honest opinion is that we love it!

Not only is TheraBreath recommended by dentists, it is created by one!
Get Connected with TheraBreath online:
I was provided with products from TheraBreath for the purposes of writing a review and testing out their products to see what I thought. I was not compensated in any manner for this post and the opinions expressed are my own.