Wow, these last couple of weeks have been so busy for our family! :) So...let's see I wanted to do post something that we do for fun--my husband and I and Sophie (though to little to do them will do in the future!)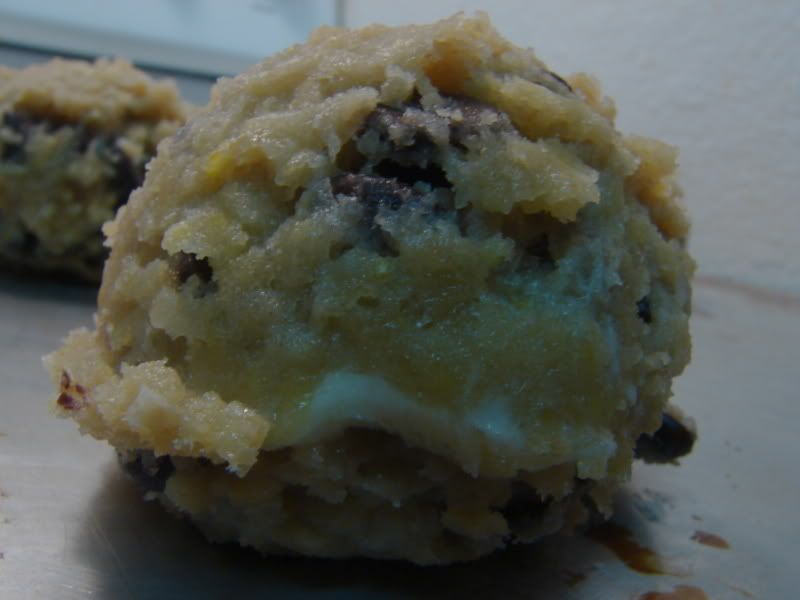 I always browse the aisles for sweet goodness, and thankfully my husband keeps me from indulging myself too much. One thing that keeps me from going crazy in the snack food aisles is the idea of making them myself at home. Reason being, fresh and hot cookies always taste better than the ones with preservatives and they are not oven fresh with melty chocolate chips. Plus, I need to use up all the sugar and flour I bought when I got a bakers' streak last couple of months ago. You can always make more cookies and spend a lot less.
Chocolate Chip Cookies
2 1/2 Cups All Purpose Flour
1 Cup Light Brown Sugar, packed
1 Cup Butter, Softened
2 Eggs
2 tsp Vanilla Extract
1 tsp Baking Soda
1 tsp Salt
2 Cups Semi Sweet Chocolate Chips
1 Cup Chopped Walnuts (optional)
Directions:
Preheat oven to 375.

Into Large bowl, measure all ingredients except chocolate chips and chopped walnuts.

Mix ingredients on low speed.

Beat on medium speed until well blended.

Stir in chocolate chips and nuts.

Drop by rounded teaspoonfuls onto ungreased cookie sheets.

Bake 10-12 minutes or until lightly brown.

Cool slightly before removing from pan onto wire racks.
Makes about 3/12 dozen!