About Cow Patties Cloth
I would really like to introduce to you a wonderful person who makes one of thee best fitted cloth diaper our little daughter, Sophie, has ever gotten! Cow Patties Cloth Diapers and its creator, Megs and on busy occasions, Seth! She is a wonderful mom and enjoys sewing fluff, as well as playing out in the yard with her kids! She started making diapers for her own family, when she decided to cloth diaper her oldest. For those of you on the fence of cloth diapering or if this you are just starting to cloth diaper here is one reason from Megs why she chose to cloth diaper.
~Cloth makes sense on so many levels. The money factor is a no brainer, you don't have to buy the "name brand" to get great affordable cloth. The environmental impact- If we had used sposies for all 3 of our kids, the amount of extra trash turns my stomach. Cuteness- cloth is far cuter than a sposie peeking out!
~Cloth saves so much money. Even switching him at a year saved us and then 2 other kids right after that.
Can anyone guess where and how she came up with her unique fluffy shop name? It got my attention! :)
I
grew up on a farm raising cattle and still help with the cattle business so it's a small nod to my roots--Megs
My Review of Her Famous Pocket Fitted Diaper!
Now has anyone tried her
*Famous Pocket Fitteds*
? We *LOVE* her FPF! One word can only describe the lining of this diaper--luxurious! Needless to say, I actually imagined myself wanting a huge blanket made out of this
bamboo fleece
! The insert was also made out of this wonderful bamboo fleece. I love the fact that this insert is very long! I can get a lot of layers in there for amazing absorbency!
After I took pictures of Sophie wearing this diaper, I put her for her afternoon nap--I totally forgot to put a diaper cover on! I now trust this diaper so much because she slept for 2 hours and when I went to pick her up, only about a 2 inch diameter was damp. This diaper definitely has me smiling--I never had a fitted diaper that I could trust without a cover for a while! I LOVE IT! Not to mention after numerous washing and drying, both insert and diaper was just as plush and soft as when it had first arrived in the mail! One has got to thank Megs for choosing such great fabrics and materials! She has different fabrics available, but Oh, if you have not yet tried a Bamboo fleece--Megs does a great job sewing up some wonderful Famous Pocket Fitteds! I recommend her for quality fitted diapers any day! :) For more information about the benefits of Bamboo clothing and materials read this!
http://en.wikipedia.org/wiki/Bamboo_textiles
What I really like about Cow Patties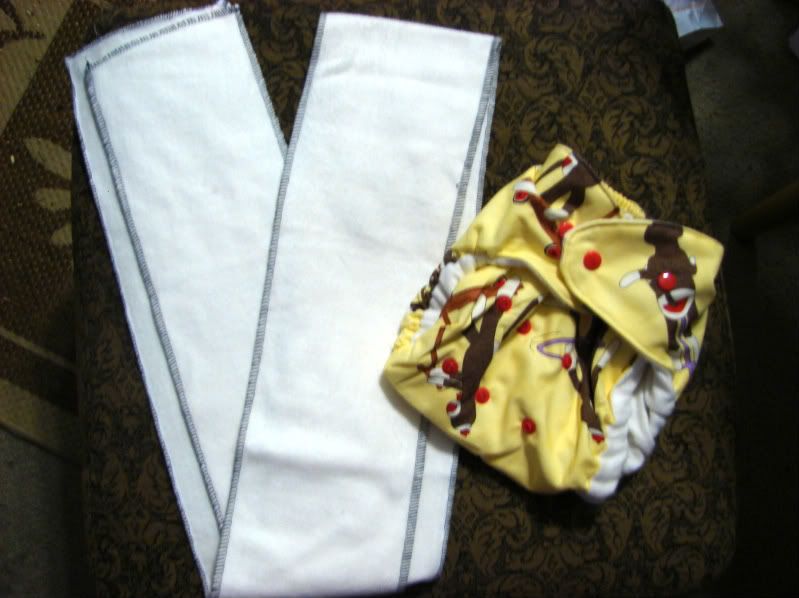 Not only is Cow Patties sewed by a WAHM, but her diapers doable for those on a budget. She is a very well seasoned seamstress, and I love the way the diaper fits on Sophie. It has snaps to adjust to make the diaper for a smaller baby, and I really like how the snaps provide a way for the diaper to grow with the baby. This Famous Pocket Fitted, is fast becoming one of my favorites to put her in. It holds a lot, and is easy to put on!
For a quality diaper, this is something that I know that our family will get more of and are planning to invest in. Just a couple of these would really go a long way--especially since we are planning to have more little ones in a couple of years!
Love what you read? Make it yours, Make a Purchase!
I will not hold back information from you! This is such a steal when you consider quality and what you will be receiving! At $18 you can get a Famous Pocket Fitted with gorgeous soft Bamboo Fleece inner lining AND a wonderfully long Bamboo Fleece Insert! She also has some One Size at a great price of $12!! She has some wonderful selection of other cloth diaper accessories! Visit her website for more details! You can also customize your Cloth Diapers! Check out her website for more information on how to order her cloth diapers and other options you have!
http://cowpattiescloth.blogspot.com
Now, Megs, of Cow Patties Cloth Diapers was very kind to do a little giveaway as well! Thank you so much Megs! Please thank her when you get the chance, she has been very gracious, and I know that you will love her and her skills as a seamstress. One lucky person, will be chosen at Random to get a Famous Pocket Fitted too! :)
Giveaway Rules:
This giveaway ends at midnight, Monday, April 10, 2011. A winner will be chosen via random.org. I will email the winner and they have 48 hours to respond. Open to US&CAN.
Fill out form below to enter!
Disclosure:
I was sent a Cow Patties product to facilitate this review. I was not compensated in any other way, and all opinions are 100% my own.