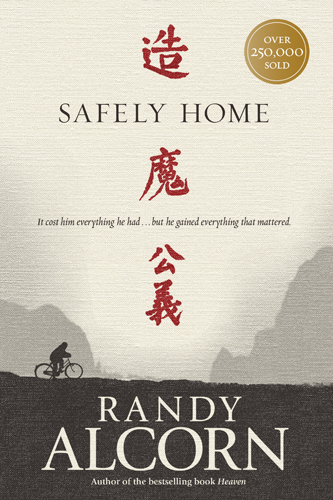 Summary of Safely Home:
Randy Alcorn's heart for this book was to write a fiction book that is a melting pot of many very non-fictional events and realities that have happened to those in countries where real Christians are really persecuted.
While telling the story of Li Quan whose legacy seems to be martyrdom, Randy was able to intertwine in the book the sole thought of God's Sovereignty. He is in control of every circumstance. And He works every circumstance for good to the glory of God--even through great sorrow and loss. In this book you can catch a glimpse of how He is at work in the characters of Ben Felding and Li Quan.
Every circumstance and detail seem to be purposed by God even the hard ones we can't explain. I feel that this book can be the story of everyone in some shape or form. I felt myself encouraged, ashamed, repentant, forgiven, and joyful. Many times I found myself thinking the exact thoughts that one person was thinking--I feel that this book is an encouragement to every believer and non believer too. --An encouragement that life is more than this world. There is hope and joy and life in Christ Jesus that is more filling than anything this world can offer. This book is also about knowing that the sufferings of this present world is but for a moment in light of eternity.
Lessons Learned:
People face persecutions because of their faith in Jesus and their desire to read the Bible everyday.
Often times I find myself just cold, uncaring, and desensitized when I hear about brothers and sisters in some third world country being persecuted for their faith.
Have you ever felt that way?
How often does one get overwhelmed or even feel so detached from news like this? For me, it is quite often. I feel sorry and pity for them in one second, and forget about them in the next! I hate that I am shallow in this sense. But this book, Safely Home awakened me from my cold emotions. I was not overwhelmed nor burdened by the weight of knowing all the horrible things people are going through. Instead, I felt love and compassion come back again, and that cold uncaring feeling melted away.
I believe God showed me that my part in all this was to be a prayer warrior for these brothers and sisters. He never asked me to conquer the world or anything...but what I could DO is to pray. Instead of feeling detached or pity or sorrow for them because I feel incapable and can do nothing,
I feel like I am taking out the enemy with the biggest guns ever---PRAYER!
JOY and HOPE and LOVE for those who I could not see seemed to take bloom.
Not joy because others are suffering, but the hope and joy that I know will come in the morning for them. I pray that they remain faithful until the end and be strengthened with His might. I pray that they know that
"Real Gold Fears No Fire"
. Also, joy that I can get to see those who I have never seen before in heaven.
In short, I love this book and I heartily recommend you pick it up to read--I already have a friend who is going to get my copy of the book to read!
I give this book a 5 out of 5!