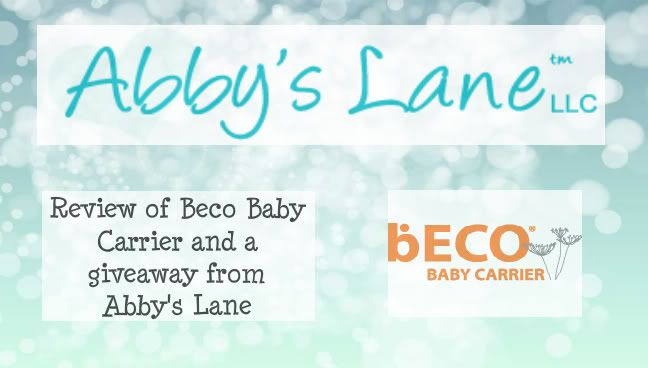 I love the online selection at Abby's Lane, and am so thankful for all at Abby's Lane for choosing to stock
Beco Baby Carriers!
Abby's Lane has great choices when it comes to taking care of baby. I love browsing the store (quite often actually), and the staff there are very fun and engaging. Their blog is constantly chalk full of helpful advice on cloth diapering and children—not to mention fun! They are a very personable crew, I love working with them,
tweeting with them
, and visiting
Abby's Lane on facebook
. Can I just say, Heap on the praise for their dedication to us? Thank you so much!
My Thoughts on Beco Baby Carriers:
I really enjoy using our
Butterfly 2
, Beco Baby Carrier. Before I had ever owned a Beco Baby Carrier, I was turned off to baby carrying. My husband and I bought a really cheap baby carrier, and I was so uncomfortable in it and did not trust it for when we took walks around the neighborhood—I felt the carrier slowly inch its way loose. Beco Baby Carrier really turned my thoughts to the positive about baby carrying.
I started to love baby carrying again, and I thank Gabby for creating Beco Baby Carriers and for giving me a chance to earn one.
Here are some Reasons Why We Enjoy Our Beco Carrier:
First off, I love the ease of adjusting the straps while having the confidence that it would not loosen up on us.

I did not have to fight to get it to be the right length or tension. After the adjustments were made, I felt the Beco to be

safe and secure

. The straps did not loosen up or feel like it was sinking as we walked or used it--even after a good length of time. It was a good feeling to stroll with our daughter without any frustration due to the carrier!
This Butterfly 2 Beco Carrier

can hold a newborn at 7 pounds and a toddler up to 45 pounds.

The broad range this carrier can hold makes it versatile and friendly on the budget. The Infant insert comes with it, no need to make another purchase. It makes this carrier accomodating to any family. I know If I could stretch out the baby wearing days and use of the carrier, why not? Loving the great range it can hold!
This carrier has proven to be very comfortable for our daughter while giving her great back and body support.

She often falls asleep in it so many times! I felt that Beco gives great back support because I can see the difference in the way she sits in the carrier. The comfort level is true to me the main baby carrier as well! I do not feel like anything is digging into me. The straps have a lot of cushion, and the way it fits me like a back pack is one of my favorite features. When she is strapped in, I feel comfortable enough to move about the house as well as take little hikes. I also can indeed wear it as a backpack on my back. So I love the alternate way of wearing it!
This carrier offers another range of support. The back of the Beco comes up high to support her upper back and neck, and it comes with a removable head rest. The foldable head rest comes in handy when I want her to lay her head down flat on my chest. The only thing I would change is adding more snaps so that it could be better adjusted. As of right now it gives room for a child to grow into and has some what of a "scrunch" to it. But it is just too loose for our daughter at 9 months. It does allow her to move her head about, which is great, but at time I feel it's just too loose.
Unique and Artful Prints!

The style we got is a Beco Butterfly2 called "Tyler"-- Medley of leaves in white, turquoise and dark grey on black background. Comes with black brushed canvas straps.This print is just fun and something that both my husband and I would wear.
Interested in learning more about Beco Baby Carriers or getting one for yourself?
Check out Abby's Lane Stock of Beco Carrier--Click Picture below! :)
Giveaway:
One of S&M's readers will Win a $15.00 Gift Certificate from Abby's Lane! Giveaway will end July 10, 2011 at midnight PST. Winner will be drawn via Random.org and will be sent a confirmation email. Winner must respond within 48 hours of receiving the confirmation email. If no response, a second winner will be drawn for the prize. Must fill out form to Enter and complete Mandatory Entry!
Disclosure: Carrier was my own, and earned through
Beco Friends
thanks Abby's Lane for naming me as their referral! I was not compensated to write this review. Views expressed are my own, I only recommend products or services I use personally and believe will be good for my readers. I am disclosing this in accordance with the Federal Trade Commissions 16 CFR, Part 255 Guides Concerning the Use of Endorsements and Testimonials in Advertising.