I am very excited to review this diaper for Heather at Mommy Only Has Two Hands.
She is a wonderful work at home mom, and I really appreciate her
Etsy
store!
Here you will see that 1 dollar of every sale goes toward Rescuing a girl from human trafficking at rescueher.org. You can sign up for her newsletter:
http://eepurl.com/8Vm
Alrighty, now that you know what a good hearted stay at home mom she is now to the diaper review! :)
I really enjoy the fun prints on this diaper, Sophie really liked them, and would stare at it and pick at it at times!
Trim and Light
What I really like about the diaper is that it is super lightweight and not bulky at all! A problem that I run into a lot of the times is that cloth diapers are too big and you just cannot snap in that onsie! Heather's diapers are very trim and light weight--two things I am very happy about! I love being able to dress her up without worrying about the cloth diaper not fitting underneath her clothes! This has been the slimmest and trimmest diaper I have tried.
Absorbancy Liners/Wetting etc
It absorbed well! I got a good two to three uses out of the diaper. By the second time I could feel the outsides of the diaper to be a bit damp, but it was not bad so I went ahead and used it again. The liner works great but sometimes moves around because Sophie moves about here and there. I recommend getting a soaker for it--works perfectly. You can easily fit any of your other inserts in there like a cottonbaby liner or bum genius or a small prefold. I found it hard though to use my larger prefolds, they were too big and bulky for this diaper, and I found it difficult to snap the diaper close. I had to find my smaller prefolds when I ran out of my inserts. Other than that I am happy with its overall ability to absorb and work! :) For its slimness and lightness--in regards to its ability to be used again about 3x as well as absorption---I am very pleased and satisfied.
Washing and Drying
I was happily surprised that washing and drying this diaper was fast. I simply hung it in my laundry room and by the next day it was pretty much dry! Line drying can usually take a long time, but I was pleased at the amount of time it took for both diaper and liner to dry. Overall it washed really well, and was not coarse or scratchy, but still was nice and soft. I like the fact that it did not require a real hot sun to dry out the diaper--which is very important to me because in Washington it is usually overcast anyway! So inside drying was not bad at all for me. I think this is a very important feature.
Fitting around those chubby cute legs and back
Incorporated in the diaper are the elastic holes for the legs. I love this feature. Sophie's legs are just snug enough not to allow leakage, and I know that this will stretch as she gets chubbier and bigger. The fit is just nice! Something that I noticed that was NOT happening to me were leg markings. Whenever I used disposable diapers, I had problems with the leg marking up her legs. But I love the fit of this diaper.
Another thing I like is that there is an elastic going on the back of the diaper that keeps it nice and snug around her backside! It helps keep everything inside.
Snaps
The snaps allow you to adjust to your baby's unique size and with the stretchy elastic on the legs and backside, the diaper will fit snug like a glove. An awesome fit! No awkward bunching or odd fit at all.
Like the perfect jeans, it almost hugs your baby in the right way on her rump, legs and back.
I would recommend this diaper to anyone looking for a nice trim and slim diaper!
I recommend this cloth diaper and will continue using it for I really like it!
Be sure to check out her blog at Mommy Only Has Two Hands for great reviews and giveaways!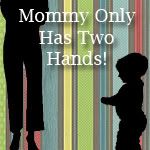 Thank you so much for letting me review your diaper!