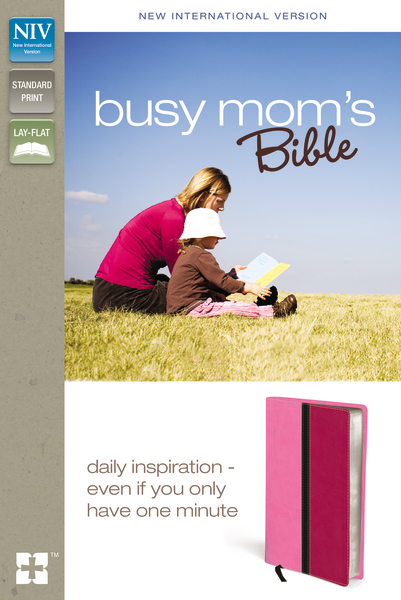 I rather am liking this kind of Bible for busy moms. Though I feel like I prefer to use a Our Daily Bread as my quick devotional, I think that having a Bible that includes 13 little devotionals spread throughout the Bible itself can be helpful to a mom on the go. These 13 little devotionals are called "Thought Starters". They are divided up into three sections. First it has a "One minute quick read" which includes a short scripture to memorize a topic to. The second parta if you have 5 minutes prayer/meditate about and if you have ten minutes to spare it has a section in the Bible that you can flip back to and do a little study!
I kind of like that it has a study section to do that takes about ten minutes. The study is located in the back pages of the NIV Busy Mom Bible. I love that you do not need any more than your Bible to do a little bit of a study. Everything is intact into this NIV Bible. On the go it is nice to have a small compact Bible that I can just slip into my purse, diaper bag, or easily carry around.
To see a sample of what this bible has to offer click here: Zondervan's NIV Busy Mom's Bible
Product Details:
Format: Italian Duo-Tone™, Pink/Hot Pink
Language: English
ISBN 13: 9780310435570
UPC: 025986435578

Disclosure: I received a digital copy of the book compliments of Netgalley for the purpose of this review.