This is a Sponsored post written by me on behalf of Whitney Farms for SocialSpark. All opinions are 100% mine.
Anyone inspired by all that sunshine and blue sky weather we have been getting?  This last week we took a trip down to our local farmer's market and bought some Thyme and Basil plants!  I know it is a small start, but I am hoping to try my luck at growing some herbs and flowers this summer.  My husband also has some roses he has been wanting to plant.  Right now the plants we have had during the cold winter are not doing so well.  One thing that I am hoping to do to help them grow healthy is to get them in some organic soil.  The benefits of organic soil is that it contains live microbes that enhance the nutrients in the soil.  Another thing I know our little garden will need is some organic plant food.  I have been watering these little plants, but I cannot wait to see what Whitney Farms can do to help our garden grow bigger.
I believe that one major difference between Whitney Farms® organic plant food and other conventional plant food is that it helps stimulates the roots to grow thereby enhancing nutrient uptake and the water the plant soaks up.  After watching a documentary about composting and the importance of the microbes in soil, I am all about organic soils and organic plant food!  Whitney farms contain Beneficial Microbes that help plants break down organic matter into nutrients.
Here's a picture of our roses.  Kind of sad really!  For these roses, One of the farmers recommended using some organic plant food to help get our roses happy again.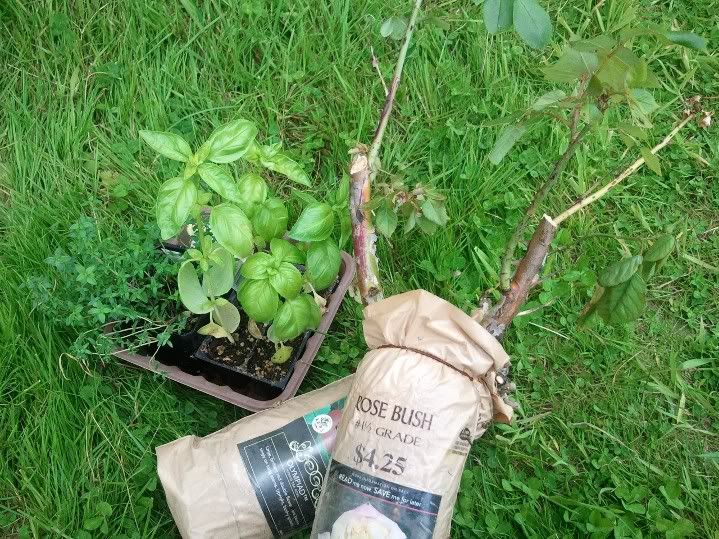 Try Whitney Farms® products for yourself and visit their website to print out your $3.00 coupon.