Now I have found that this diaper gets nice and "thicker" it seems after a number of washes. Our washing machine is shared between our upstairs neighbors so it took quite some time to get this diaper washed! But after a good couple of washings and using it for about a month now, I have to say that it's a nifty daytime diaper. My toddler is about 23lbs now and it fits her nicely. This Mother Ease One-Sized Fitted is designed to fit a child 8lbs-35lbs.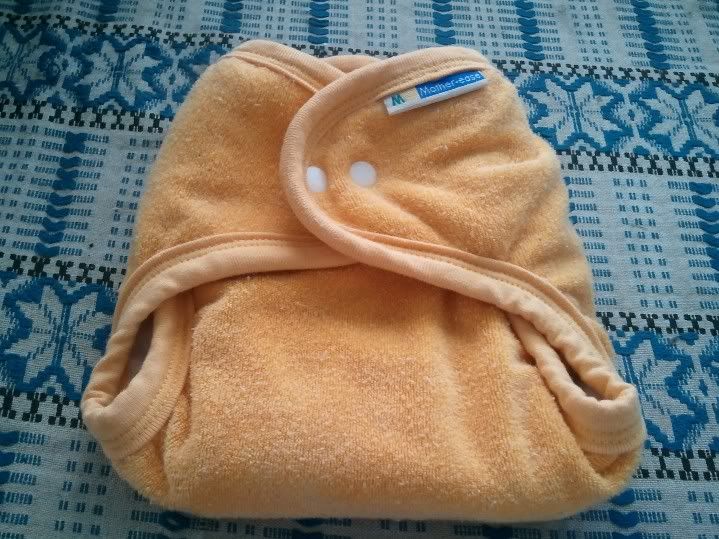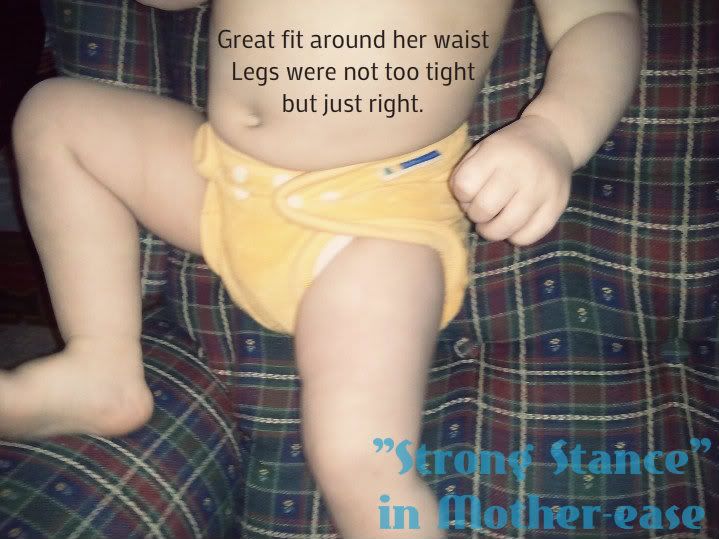 Absorbency:

Now at first I snapped on this diaper without an insert. She got away from me and managed to run and pee at the same time. A toddler without an insert in this diaper or a diaper cover—not a good idea. After washing and drying the diaper, I added a soaker inside this Mother-ease diaper, and gave it another try! I managed to slip on a diaper cover on her wiggly body, and voila! It made for a nice daytime diaper for the afternoon. I found that it was a good diaper for both night time and daytime use. In our stash it is used mainly as a day time diaper because it is just so easy to use and quickly put on her.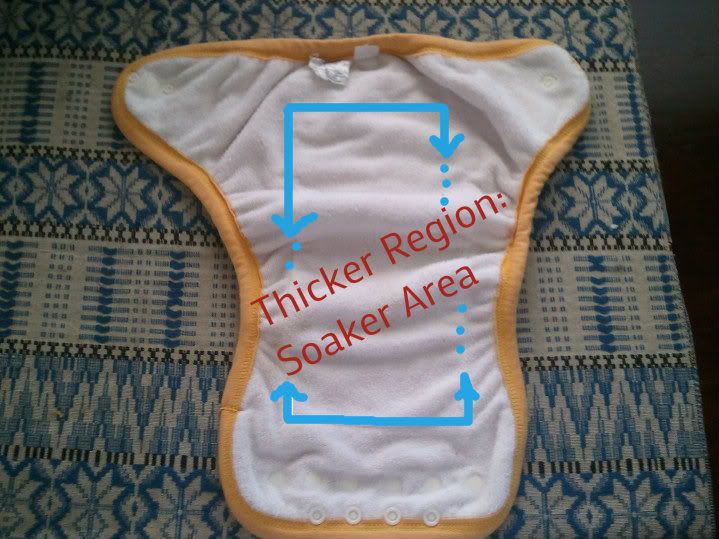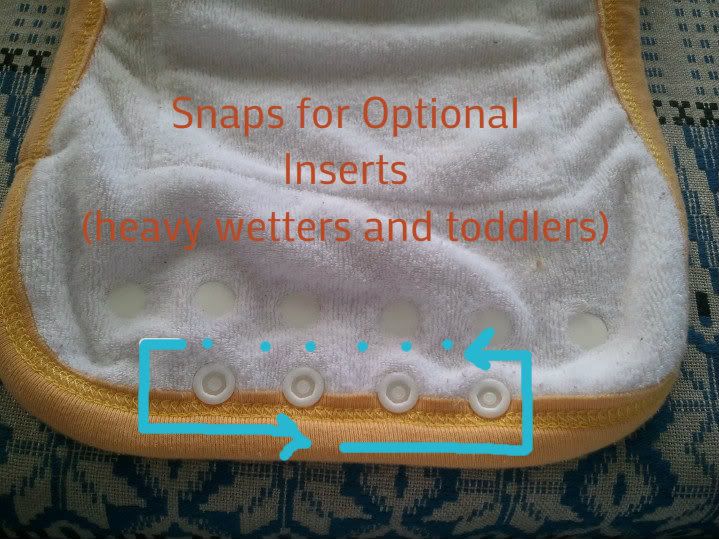 Mother-Ease One Size Fitted Diapers have a place for an optional insert.
For a light weight wetter and younger babies, an insert might not be needed, as the cotton terry fabric seemed to absorb nicely. I have only tried this diaper on my 18 month old, 23lb toddler. For a toddler or heavy wetter Mother-ease recommend an optional snap-in insert as shown in their diagram on folding diapers for various sizes. I highly recommend a thirsty insert. She peed right through the diaper without the insert. When I grab this diaper it is for the daytime uses. I have used this diaper with a snap in insert and diaper cover for her 2 ½ hour.
Fabric:

I did like how the diaper had Cotton Terry touching my baby's bottom. If you are looking for a diaper that is soft and will not maintain its softness I highly would tell you that this one may be the diaper you are looking for! The Cotton Terry has a nice feel to it—great for little bottoms. I love that the cotton terry texture helps things fall off the diaper when plopping solids into the toilet. It seems to absorb and then the terry texture keeps the solids at the top instead of getting smushed into the fiber. Another fabric in this diaper, the polyester fabric is in the core to help "stabilize, prevent shrinkage, and add durability". I know that some may worry about polyester fabrics, but do not fear, the Cotton Terry is against the skin not the polyester.
It also has a nice stretch to it. I like that I am not fighting a stiff fabric.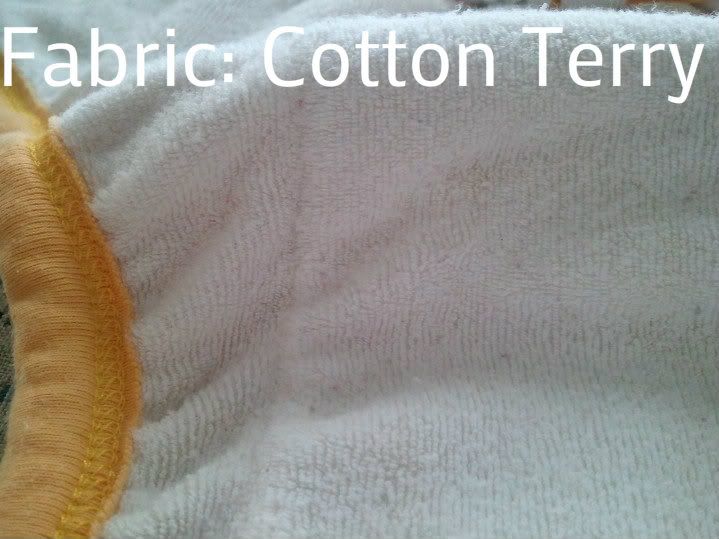 Newborn Fit:

I kind of like using my daughter's baby doll for illustration on how fit is on a baby. As you can see it will work for a tiny one. It is loose on the bottom side due to the baby not having much of a bum. It seems kind of bulky in my opinion even for an 8lb baby, but is doable. I find that babies will rather grow into diapers sooner than one will know it though so do not despair if you purchase a diaper—your little one will grow into it for sure!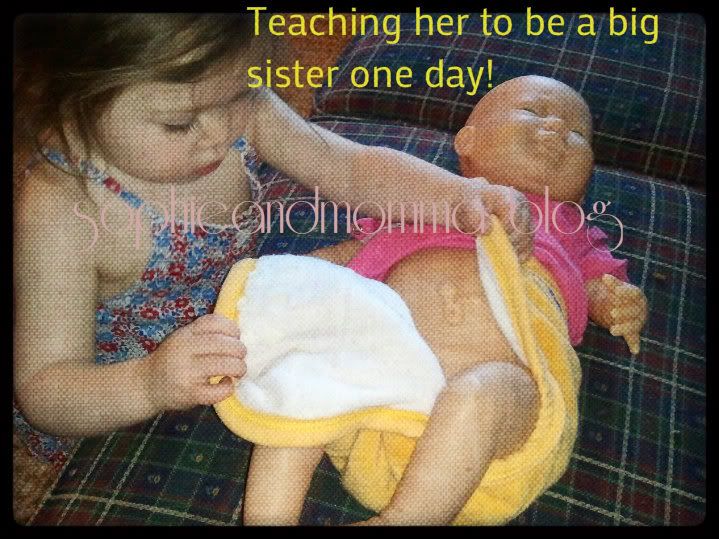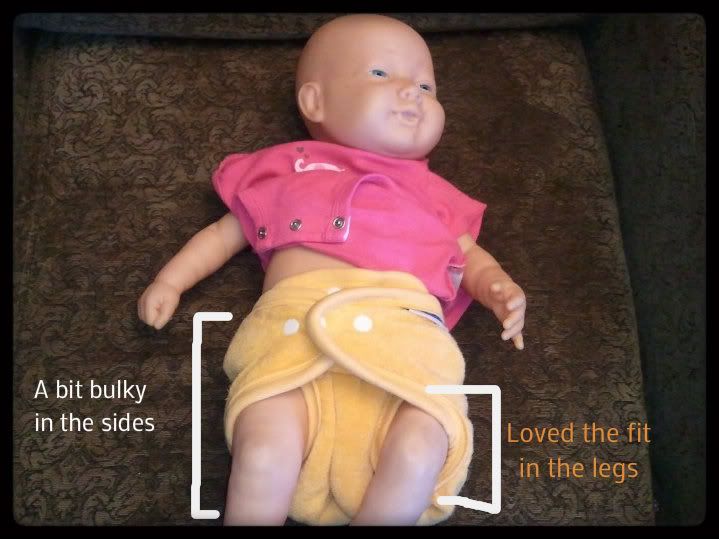 Though it will be somewhat bulky on a newborn, I feel that it could be a stay at home diaper till baby grows into it more. The Cotton Terry cloth will be great for newborns' skin I think, as it was super soft even after a month's worth of washing. The diaper itself is not stiff, but just supple and pliable to form and fit around umbilical areas. I found it relatively easy to fold down the diaper to avoid umbilical cord as well. Mind you, it was a baby doll I tried it on!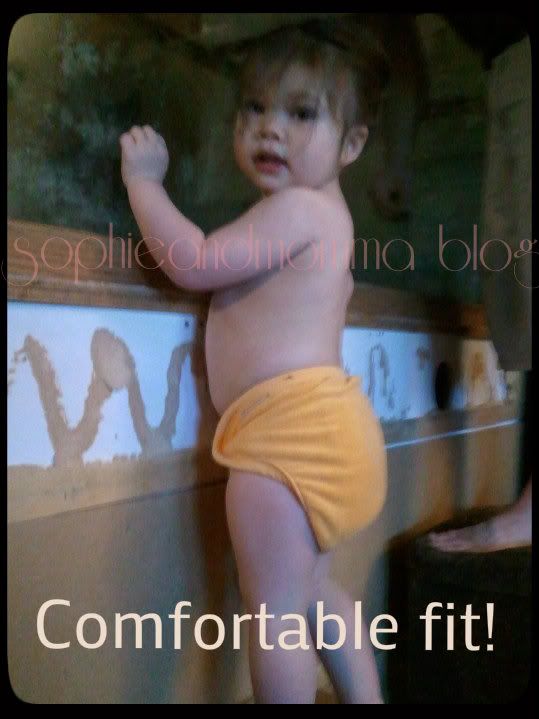 Final Thoughts:

I really liked the trimness of this diaper. I liked that I could slip on a pair of her shorts or pants over top the diaper and diaper cover. Another positive about this Mother-ease diaper is the fabric--The Cotton Terry's softness was a major plus in my book. This is my first cotton terry type of diaper, and I have to say we LOVE it!
For approximately $11-$13 you can get a decent One-Sized Fitted Mother-ease diaper. I think that the price for the cloth diaper is reasonable especially since it will accommodate your baby till potty training time!
Enter to win:

Thanksmama has offered to sponsor a giveaway on my blog! One winner will receive a Mother-ease diaper, to enter please fill out the rafflecopter form below. Winner will be drawn May 29

th

! Winner will be drawn at random. Thanks for Entering!
a Rafflecopter giveaway
Disclosure: I received the item for the purpose of the review. All opinions are my own and I was not required to write a positive review.