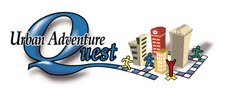 A friend of mine a few years back said she wanted to do a scavenger hunt. In my mind I thought that was way too much work to plan it all out. I'm sorry to say the idea got tabled. But I just happened to find out about a company that take all the work and planning out for you. It's called
Urban Adventure Quest
.
I lived in Seattle for a short time as a college student. Though I lived there, I had little time to really take in and enjoy the sites. Not to mention as a freshman young lady, being alone in a city walking alone is just not ideal. I wish I could have taken in the sights more, and now that I am not taking classes on a daily basis and cooped up in a classroom---I have time to hit up Seattle as a tourist! I see all these movies, and pictures of Seattle--and though I have been up the Space Needle and walked around in the different parks and museums. There is a lot I have yet to experience!
Have you ever felt the same? Well, I am very excited to share with you Urban Adventure Quest that gives you the chance to have the sights and fun--without the headache of hashing out and planning it yourself.
What is Urban Adventure Quest?
Turn Seattle, WA or any major city into a giant game board with this fun scavenger hunt adventure. Combine the excitement of the Amazing Race with a three-hour city tour. Guided from any smart phone, teams make their way among well known and overlooked gems of the city, solving clues and completing challenges while learning local history.
Play anytime during daylight hours.
Start when you want and play at your pace.
Great Family Fun.
Exclusive Special Offer for my readers:
Save 20%- Only $39.20 for a team of 2-5 people after Promotion Code: FGBLOG.
Sign up online at
www.UrbanAdventureQuest.com
.
I for one am excited to get together my band of friends and tour Seattle!
What about you? Are you excited at the possibility of doing an Amazing Race with your band of friends? What city are you from?
Click here to see what cities are available:
http://www.urbanadventurequest.com/tours/default.aspx
Disclosure: US Family Blogger, Promoting this event I do get compensation in free products or passes.